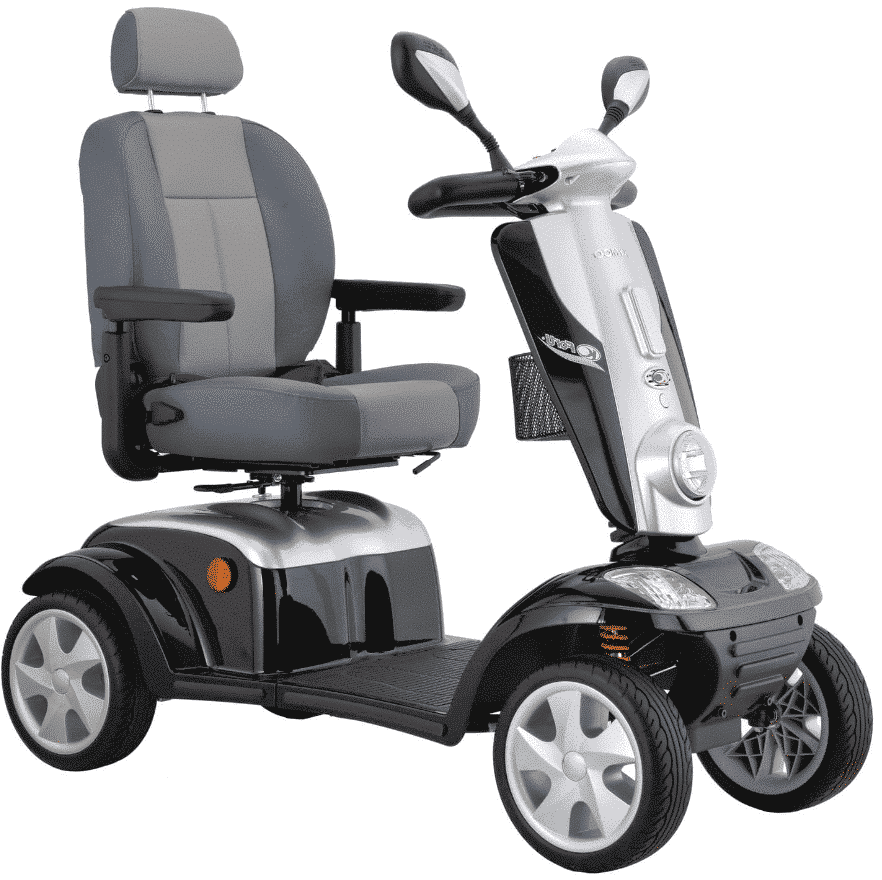 The Kymco Maxi XLS mobility scooter is the latest model of the Maxi XL.
Packed full of innovative features and the latest technology, this high-performance mobility scooter delivers in every area and has the build quality that you would expect from a Kymco scooter.
Together with high performance, the Maxi scooter range is well known for absolute comfort. Composed of high-quality materials they are robust enough to tackle challenging environments other mobility scooters couldn't even attempt while still delivering a smooth ride.
Comfort & Power
The all-round suspension on the Maxi XLS means every trip you make will be comfortable, even on bumpy ground. The seat itself is padded and fully adjustable. This is particularly good for users with arthritis as the amount of jolting as you drive is considerably reduced.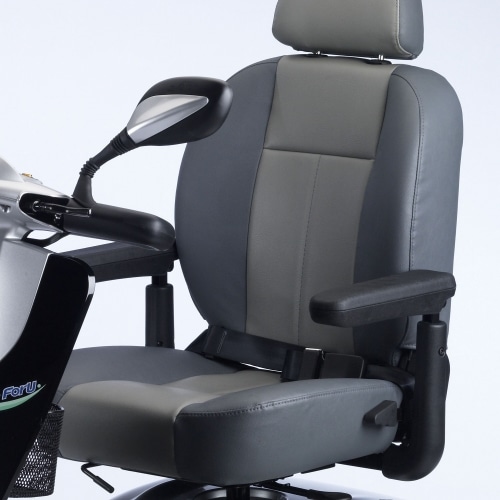 The fully adjustable seat means you can position yourself however you feel comfortable, giving you more freedom in the way you drive.
Large 12" pneumatic tires and a 4" ground clearance give extra cushioning and padding to your ride, as well as allowing the Maxi XLS to tackle small bumps such as kerbs with ease.
Being able to drive both indoors and outdoors providing good traction, the tires are also puncture-proof.
A wraparound delta tiller gives constant support and comfort when operating the controls. This helps if you have a disability that affects your joints, as there will be significantly less strain on them. The Maxi XLS really is a scooter built with high-quality materials providing you with the utmost comfort, luxury and style.
The Maxi XLS has some of the latest features and high-end technologies incorporated. Bright front and rear low consumption LED lights will help you see and be seen on the move. Rearview mirrors can be found either side to allow you to see behind you as you drive.
A large 35-mile distance on a single battery charge means the Maxi XLS can be for more than just nipping to the shops. You will be able to confidently use your scooter on the busiest days and go for longer without the worry that you will run out of charge whilst you are out.
The Kymco Maxi XLS is Class 3, 8mph mobility scooter meaning it can be used on the road, you can find out more about the classification of mobility scooters here. Capable of carrying a user up to 31 stone the Maxi XLS really is one of the best scooters you can buy on today's market.
Giving you more freedom day to day the Maxi XLS comes in a stylish grey, black or red colour, meaning you will look sleek on the go. A rear fitted basket comes as standard, giving you some extra storage and a handy feature to keep your things in on those long journeys.
You can trust that Kymco knows how to make a high-quality mobility scooter, they have been doing so for over 14 years and are one of the biggest motorcycle manufacturers in the world. Using high-grade panels and suspension straight from quad bikes gives you the high quality you would find in their motorcycles in their mobility scooters.
Kymco Maxi XLS Mobility Scooter Key Features
| | |
| --- | --- |
| Max user weight | 200 Kg / 31 stone |
| Length | 1450 mm |
| Width | 670 mm |
| Height | 1090 mm |
| Max speed | 12.8 Kph / 8 mph |
| Range | 57 Km / 35 miles |
| Wheel size | 300 mm (12″) |
| Wheel type | Pneumatic |
| Heaviest part | 52.5 Kg |
| Total weight inc bat | 138 Kg |
| Battery | 80A |
| Seat Height – Dec K (mm) | 450 / 510 mm |
| Lights fitted | yes |
| Turning radius | 1650 mm |
| Max slope – Deg | 12 |
| Colours | Glossy Black, Graphite Grey, Cherry Red |
Please feel free to contact us or visit one of our stores to find out more about mobility scooters and what scooter is right for you.