Go anywhere on the road ready 8mph Sunrise S425
The Sunrise S425 is a truly all-round mobility scooter. Featuring all of the capabilities of its little brother the S425 also has extra power. Super bright front and rear LED lights and performance suspension together with a top speed of 8mph means that this mobility scooter can be used on roads as well as pavements.
The increased wheel height (30cm) will make your journey comfortable and easy as you drive along roads and pavements encountering and overcoming obstacles  along the way
A larger 55Ah battery also means that your journeys can be that much longer and the eye-catching carbon-metallic colour will ensure you travel in style
This mobility scooter is fitted with advanced LED lighting technology. The LED lights are 400 times more energy efficient than regular bulbs meaning they wont be sapping your battery power whilst you drive in low light or at night.
Fully approved for road use and lighting your way, making sure you are seen the LED bulbs won't need replacing because of their durability.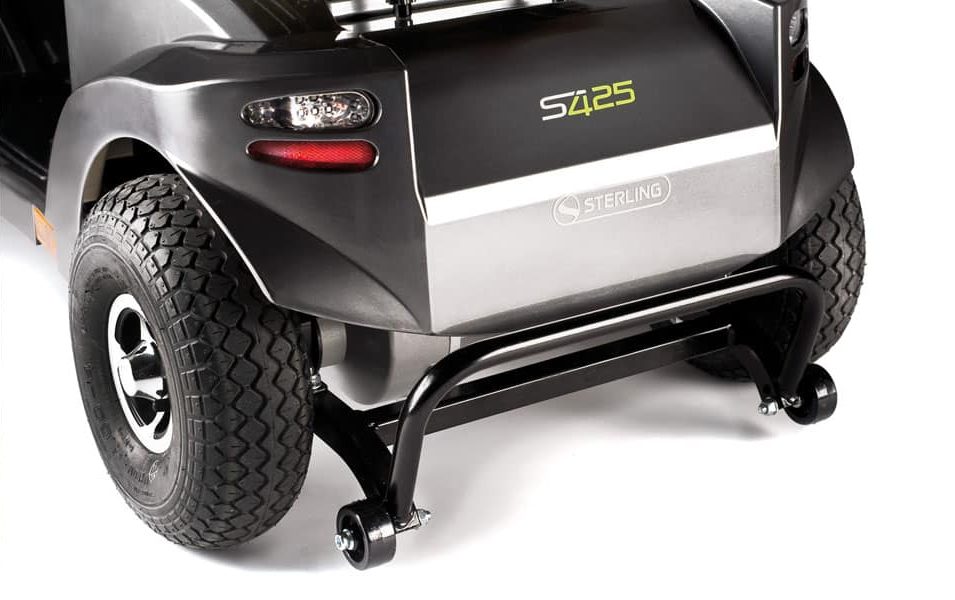 The Sterling S425 Mobility Scooter has large 30cm pneumatic tyres and adjustable suspension both at the front and rear.
This performance mobility scooter is more than capable of navigating kerbs and uneven roads whilst ensuring you have a comfortable ride.
The S425 can even be fitted with a heavy-duty rear suspension kit for an even firmer ride.
Sitting comfortably? Let's Go...
We all have our own driving style and like to drive in a position that suits us and feels comfortable and safe.
The Sterling S425 has a fully adjustable seat to suit any driving style. With an easy-to-adjust seat and width, depth, and angle comfortable flip-up armrests you will be sure to find the best driving position that suits you.
The driver's seat on the S424 also rotates meaning transferring in and out of your S425 is effortless.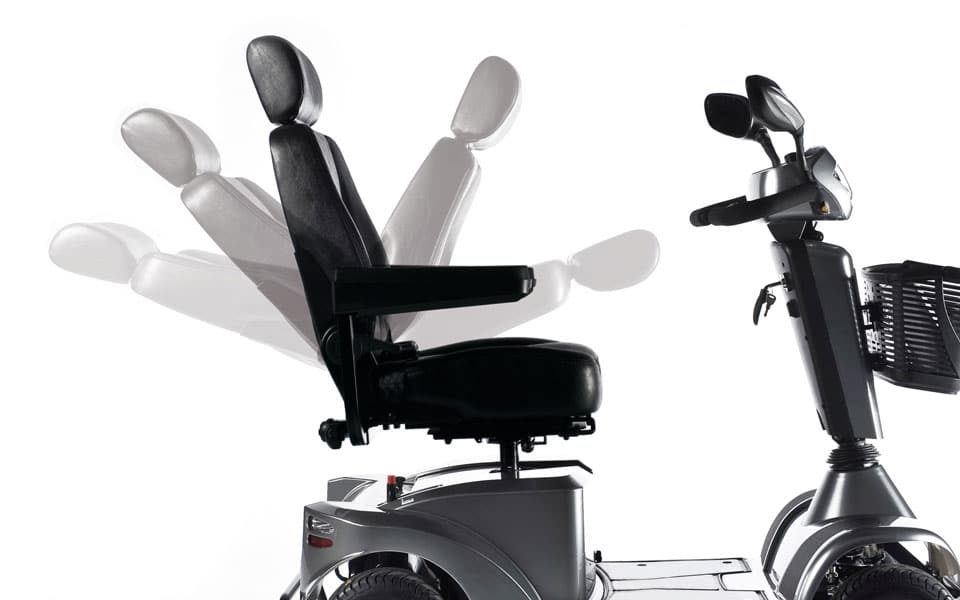 Sterling S425 Mobility Scooter Specifications
Performance/Weights

Max. Range:
42 km
Speed:
8mph
Batteries:
55Ah x 2
Maximum Safe Slope:
8º at 150kg
Light And Indicators:
Yes
Total Weight:
117kg
Maximum User Weight:
150kg (23.7 stone)
Dimensions

Width:
660mm (66cm)
Length:
1350mm (135cm)
Seat Height:
450mm - 500mm (45cm - 50cm)
Turning Radius:
1.5m
Castor Wheel:
300mm (30cm)
Drive Wheel:
300mm (30cm)