Guide to Buying a Mobility Scooter
With hundreds of mobility scooters available today it can be an overwhelming task to find the best mobility scooter for your needs. Easy Mobility Services have created this guide to help you understand what different scooters can do and which one is right for you.
Things to keep in mind when buying a mobility scooter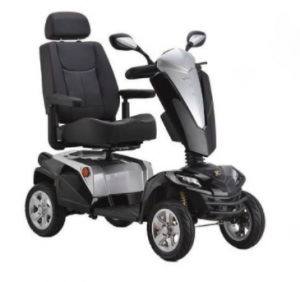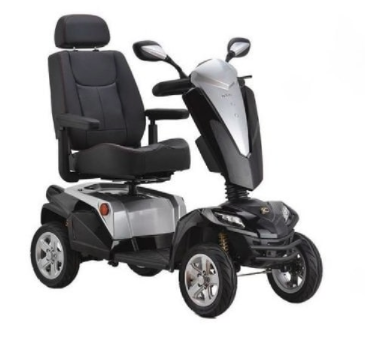 A mobility scooter will give you the freedom to go wherever you want; allowing you to reach those places you wouldn't have been able to before.
Whilst wheelchairs can provide similar benefits, a mobility scooter does have certain advantages. Driving a mobility scooter requires very little physical effort compared to a manual wheelchair, this is therefore ideal for those who don't have the strength or stamina to push a wheelchair.
Mobility scooters are typically cheaper than most powered wheelchairs, and the majority of scooters feature a rotating seat, something that isn't as available on a wheelchair.
What types of mobility scooters are there?
Mobility scooters are split into classes depending on their maximum speed by the UK Department of Transport. They are also divided into categories depending on their size and weight. Mobility scooters often come in three or four wheeled variations of the same model.
Mobility scooters don't fall into this class as this is for manually pushed wheelchairs or transit wheelchairs pushed by others. Wheelchairs with no motor fall into the class 1 category.
Electrically powered mobility scooters together with powered wheelchairs fall into this category. They're not allowed to be used on roads only on pavements and cannot exceed a speed of 4mph.
Mobility scooters in this category can be used on both paths and roads and have a maximum speed of 8mph. All scooters when on the pavement must keep to a maximum speed of 4mph. A class 3 vehicle can drive up to 8mph, however, when on the pavement it is legally limited to drive at a maximum of 4mph. On most Class three scooters there is a switch on the scooter to restrict the speed to a 4mph limit.
If your mobility scooter has a number of these specific features, then it may be classified as a class three scooter.
Lights on both front and rear

Indicators and hazard lights on both front and rear

A horn

Emergency hand breaks

A rearview mirror
Does a scooter need an MOT, tax and insurance?
A class 3 vehicle is not legally classed as a motor vehicle. It, therefore, does not require road tax or an MOT. This also means there isn't a legal requirement to take out any kind of insurance. Whilst it may not be a legal requirement to insure a scooter we highly recommend that you do.
Insurance will usually cover these risks:
Third-party injury and loss

If your scooter is stolen

Accidental damage to the scooter
Make sure you have at the very least third party liability insurance to cover the cost of third party injury and damage. There are some legal concerns and restrictions regarding mobility scooters. A mobility scooter cannot be driven by an able-bodied person unless it is for maintenance and repair purposes.
Mobility scooters cannot be driven on motorways, bus or cycle lanes. Driving a mobility scooter on a dual carriageway with a speed limit of over 50mph is not recommended, however, if you do decide to drive on a dual carriageway you must be using an amber flashing light.
Mobility scooters come in a wide range of sizes and weights however they can usually be placed into one of three categories, lightweight, mid-sized and large scooters.


Lightweight mobility scooters
Lightweight mobility scooters also known as boot scooters as they fit into the boots of cars are the lightest and easiest to transport of the three mobility categories. However, the drawback is that due to their smaller size and weight they typically have smaller batteries and tend to have shorter travel distances, normally around 16km max range.
As well as being lighter they have a lower maximum weight capacity and can have less shock absorption capabilities so they ride may not be as comfortable as a larger scooter.
Lightweight mobility scooters are perfect for occasional use and short journeys or if they need to be stored and transported easily.
Mid-Sized mobility scooters
Mid-sized mobility scooters are a perfect blend of light and heavyweight scooters and offer compromised features from both categories.
Generally having travel ranges up to 40km and being able to carry more weight than lightweight scooters they are relatively stable and can tackle mildly uneven surfaces as well as climbing curbs.
Some mid-sized scooters can still fit in the boot of a car and others can be dismantled for transportation purposes, however, this can often take some time and should be a factor to consider.
Large mobility scooters
Large mobility scooters are heavy-duty scooters, not being very easy to transport they make up for this in performance and comfort.
They have high load capabilities and can travel at up to 8mph. Large mobility scooters have high travel distances and can be the most comfortable as there have padded seats and shock absorbing suspension systems.
Being designed mainly for outdoor use heavyweight scooters are the best for long journeys and uneven terrain.
Three and four-wheel scooters
Many scooter models come in three or four-wheel variations. It's worth considering the advantages and disadvantages of both.
Three-wheeled mobility scooters
Three-wheeled mobility scooters are aimed at driving on smooth indoor surfaces like shopping centres, supermarkets and around the home. The reason for this is because they have a smaller turning radius, are easier to manoeuvre and tend to be agiler than four-wheeled scooters.
As well as being ideal for a short journey to the shops three-wheeled mobility scooters are also generally narrower than four-wheeled scooters. This makes them ideal for tackling tighter spaces such as narrow shop isles or between furniture in the home.
However, because of the three wheels, there is a smaller base area compared to the same four-wheeled model making them less stable and less suited to uneven terrain. Generally, three-wheeled mobility scooters also have a maximum travel distance of around 10 miles compared to the 10 plus miles of a four-wheeled scooter.
It is also worth noting that due to the smaller frame size, the maximum user weight capacity of a three-wheeled scooter is usually less than their four-wheeled counterparts. They generally have a maximum carrying weight below 20 stone.
Four-wheeled mobility Scooters
Four-wheeled mobility scooters are more stable and durable than three-wheeled scooters and are ideal for heavier users. Because of the extra stability, four-wheeled mobility scooters can support a higher maximum weight, with most being able to carry a user over 20 stone.
Due to the additional front weight crossing uneven terrain is far easier. Four-wheeled scooters generally have larger motors due to their size which in turn gives them an increased maximum travel distance of well over 10 miles.
The downside of a larger and heavier scooter means tackling narrow spaces can be more difficult. The turning radius is also usually larger and not all four-wheeled scooters can be used inside.
Folding or dismantling scooters, which is better?
If you are an active user or travel regularly then you will want a mobility scooter that can be easily transported.
Getting a lightweight boot scooter is a popular choice as it can be picked up and placed in the boot of your car with ease. However, for those who want a mid-sized or heavyweight scooter to transport you may consider buying a mobility scooter with a storage mechanism such as a folding scooter or one that can be dismantled.
A folding scooter seems like a great idea, simply fold it and store or transport it with no stress practically it demonstrates this is also, however, there are some drawbacks.
Folding scooters need to be able to be lifted and folded in one piece if you don't have the strength or stamina to do so you would need to ensure someone available who does. To overcome this, you could opt for a lighter folding scooter however because of the folding mechanism they can prove to be flimsy, less secure and more uncomfortable than dismantling scooters.
On the other hand, dismantling scooters require less strength to transport as each piece can come away separately. The obvious disadvantage here is this will take more time to complete as you have to then rebuild the scooter after dismantling when you want to ride it again. Because there are no folding parts, however, dismantling scooters tend to be sturdier and more secure than folding mobility scooters.
This is arguably the most important point to consider and question to ask yourself when you buy a mobility scooter.
Firstly, will your scooter be used primarily indoors or out? Long or short journeys?
These are both important questions to ask yourself, here are a few common uses of mobility scooters and the type of scooter most suited to that use.
Getting around the house or quick trips to the shops – For these short journeys, you will want a lightweight scooter so it's lightweight and easy to manoeuvre, perhaps considering a three-wheeled scooter to help with narrow obstacles and tight turns.
Visiting friends and family – Depending on how far they live will depend on the scooter. For trips to different towns then an easily transportable scooter would be preferable such as a mid-weight folding or dismantling scooter to easily get into the car. However, if the trip is within the same town then perhaps a heavyweight mobility scooter will be best, to keep you comfortable and safe and have the range to get there and back.
If you're planning on using your scooter mainly outside for example for shopping, then you need to consider the obstacles and terrains you need to tackle regularly. A large ride height means tackling curbs will be easier. If you live in a fairly hilly environment then you will be putting the mobility scooter under more stress up steep gradients.
Storing you mobility scooter
Another thing to consider when you buy a scooter is where you are going to store it. Preferably close to a power socket to easily charge the scooter when it is not in use. Making sure the storage location is secure and waterproof is vital.
A garage is a common storage area, if you do need to store the scooter in your home you must consider if you need ramps to allow access.
Another option with a boot scooter is to leave it in the boot of your car and when it needs recharging remove the battery and charge it inside.
It's important to have considered storing and recharging the scooter before you make a purchase.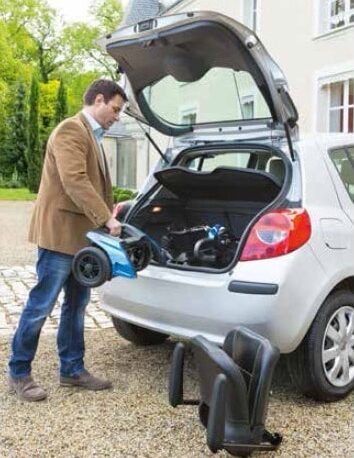 Your mobility scooter needs to be right for you, matching any features on the scooter to your own needs and requirements. For example, for a user with back problems, their scooter should incorporate a comfortable seat and suspension to help ease any pain and prevent further harm.
Your own weight and size is probably the main consideration when choosing your right scooter. If you are heavier than the scooters' maximum weight, then your warranty may become invalid.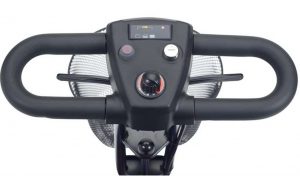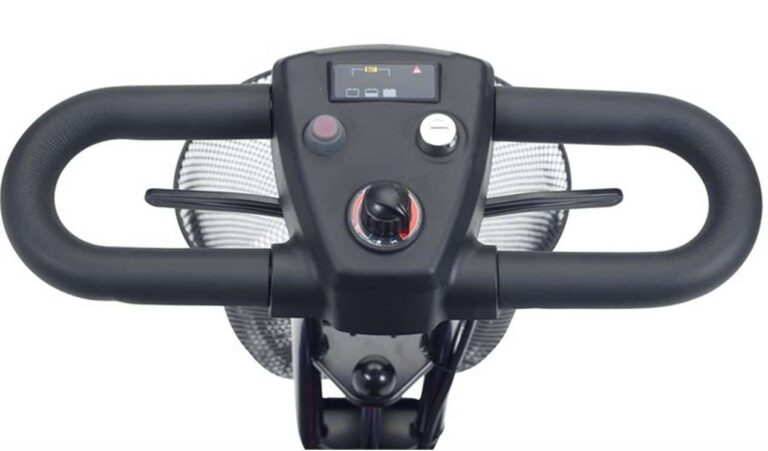 To be able to drive your scooter you need to familiarise yourself with the controls, these can be found on the tiller which is effectively just the front section of the scooter which includes the handlebars and controls.
Everyone has a different posture so most mobility scooters allow you to adjust the angle of the tiller bringing it closer or further from you to ensure you are comfortable when driving. Most mobility scooters do feature an adjustable tiller however some smaller cheaper models do not, be sure to check if the tiller is adjustable before buying.
The scooters speed is typically done using a finger or thumb control mechanism located on the handlebars. This mechanism can sometimes be referred to as the 'wig-wag'. To move the scooter forward the standard is to use the wig wag on the right to move the scooter backward the wig wag on the left.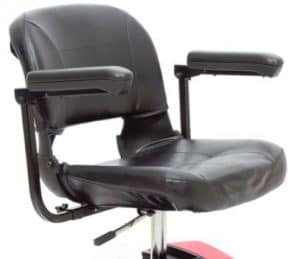 Picking the right seat is incredibly important as it arguably has the biggest effect on your comfort and posture when driving. A basic mobility scooter seat is usually a base and back padded section together with armrests. Mobility scooter seats vary in design, features, material, and comfort so you will need to check by testing the seat for yourself to ensure you are comfortable.
A captain's seat is usually found on larger mobility scooters, they are a bigger seat with more adjustments and a headrest. Be sure to look if the seat on the scooter turns as this can allow easier transfer on and off the scooter, especially for those with decreased mobility.
Most seats are adjustable, keep an eye out for these adjustable features and test some different seats out to find the right one for you.
The height of the seat can be adjusted making the seat higher or lower, this helps adjust the scooter to your own height.

The position can usually be adjusted on mid-sized scooters and larger, allowing you to move forward and backwards.

The angle of the seat can be adjusted allowing you to choose a posture that is comfortable for you, however, this is normally only a feature on a captain's seat.

The angle and height of the headrest can be adjusted to fit you comfortably.
All mobility scooters are battery-powered using two 12 volt rechargeable batteries however the size of these batteries directly affects the weight limit and range of the scooter.
Power output in the battery is measured in amps per hour (Ah), as a rough guide the larger the battery the higher Ah it will have meaning it can output more power.
Mobility scooter brakes are permanently on, this is because they are electromagnetic brakes and until you activate the scooter (using the wig wag) they will remain on. Unlike a car, the brake acts upon the motor, so soon as you are not pressing the wig wag the brake is activated and the scooter will slow and stop.
In case you needed to push the scooter, there is always a freewheel lever that disconnects the motor (and therefore brake) allowing the scooter to move manually.
A feature found on some larger scooters is an emergency brake, similar to a bicycle handlebar brake it will act on the rear wheels. However, this is just in case of the electromagnetic brake failing.
Scooter baskets and holders
Probably the most common scooter accessory that is purchased is extra storage.
Many scooters come with a front basket as standard but many people find they still need more storage options.
There are different types of bags that you can attach to the back seat of the scooter as well as tubes that can be mounted to a universal socket behind the seat allowing storage for a walking stick.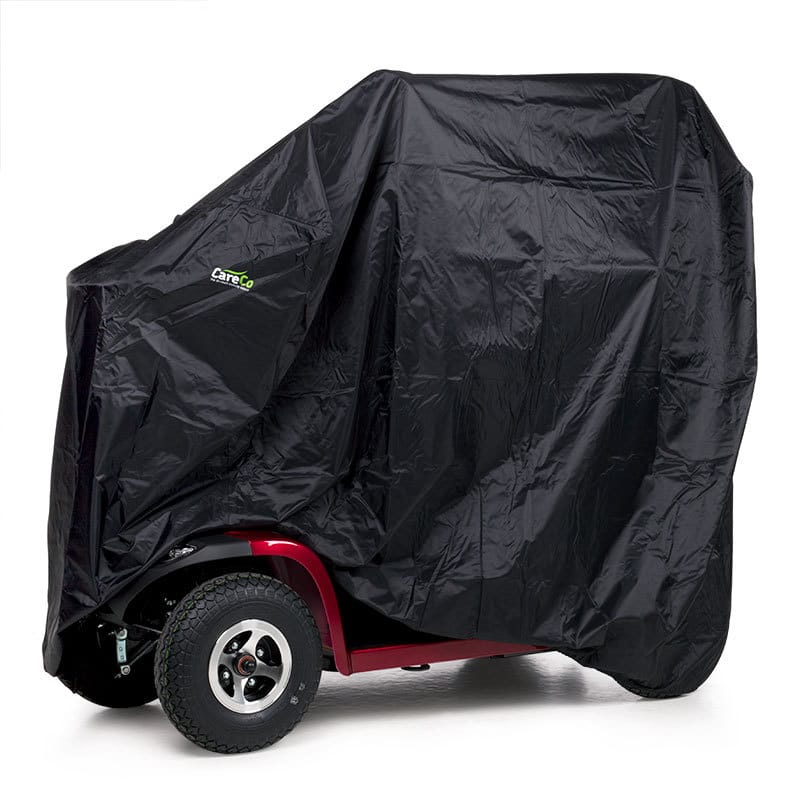 A cover for when you are not using your scooter can provide protection from dust, dirt, and rain. Normally made from a plastic material there is an elastic bottom to provide a universal fit. Some more expensive scooters have bespoke covers designed to fit them perfectly.
There are also cover stores, with a rigid frame the scooter can be kept inside and the cover will stand up and be effective in harsher weather.
If you have only steps to access your home and want to be able to use your scooter inside and outside then you may have to install a ramp to allow access. Portable ramps can be carried and stored onboard the scooter for tricky high curbs and surfaces.
For when the elements are tough you will want to protect yourself from the rain and cold which can be done by using a canopy.
A canopy is a rigid frame with a cover in between with transparent material to allow you to see through.
The only downside to a canopy is they take some time to fit and remove and shouldn't be expected to be able to quickly put on and take off.
How do I buy a mobility scooter?
Easy Mobility Services have a wide range of mobility scooters to test drive at our shops across Essex and our experienced staff will be able to help with any questions you have.
We are members of the 'Buy with Confidence Scheme' and approved by the trading standards so you can have complete peace of mind when you buy a mobility scooter from us.
Please feel free to come into one of our shops or contact us here. We want to make sure you get the right scooter for your needs and requirements and are completely happy with your purchase.