We all know how it feels when we have not had a good night's sleep, and for that reason Easy Mobility introduces the new range of electric adjustable beds for those people who not only have difficulty sleeping, but also find getting in, and out of bed a real chore.
Custom made electric adjustable beds are designed to provide great comfort to both the fit and healthy, as well as those with medical conditions such as, back pain, sciatica, asthma, arthritis and rheumatism.
The electric bed range offers a wide choice of model variations for both domestic, and care home settings, along with a number of mattress choices to suit individual needs.
An Electric Adjustable Bed can help those with the following conditions: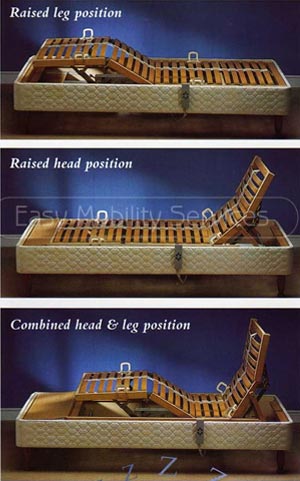 Raised leg position
Sciatica
Fluid retention
Varicose veins
Circulation
Thrombosis
Pneumatic pain in knees, hips & ankles
Raised head position
Asthma
Breathing disorders
Back problems
Emphysema
Combined head & leg in contoured position
Muscular aches & pains
Stress & tension
Spinal & hip problems
For more information on Electric Beds, Electric Profile Beds or Electric Adjustable Beds, call us now on 01376 320133? Or visit you local Easy Mobility Branch. We're always happy for an informal chat to discuss your requirements.
Visit Easy Mobility's Showroom in Braintree, Essex, to see the full range of Adjustable Electric Beds on offer.