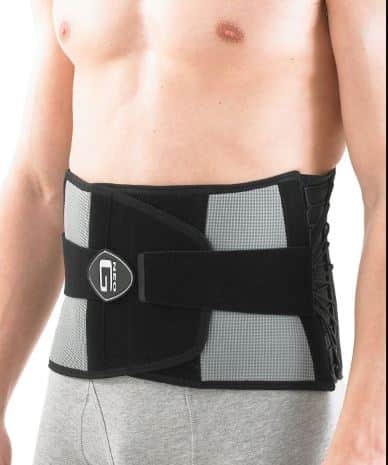 The Neo G RX Stabilized Back Brace is constructed with breathable fabric and helps with rehabilitation following lumbar joint or muscle strains or pains.
The support fastens with a two-part system that features an elasticated lacing mechanism that cinches around the lumbar area combined with power straps. This enables adjustable support and helps prevent unwanted twisting and over-stretching whilst maintaining correct posture, ideal for people suffering from chronic backache due to repetitive sporting or occupational activities.
The support allows variable and customisable tension required for optimum comfort and wearer confidence and also provides abdominal compression and lumbar support. The contoured design achieves a superb anatomical fit.
Embedded Silver* – for microbial and odour control & Embedded Aloe Vera – helps moisturise, soften and soothe the skin.
*Silver – helps reduce microbial growth in the fabric support and thereby controls odour. The silver is intended to protect the support and does not extend protection to the skin.
SIZING GUIDE – To size, measure waist circumference (cm) –
Small: 60 – 75 cm;
Medium: 75 – 90 cm
Large: 90 – 110 cm
X-Large: 110 – 130 cm.