The Able2 bath seat is truly simple to use and allows you to be gently lowered or raised into your bath.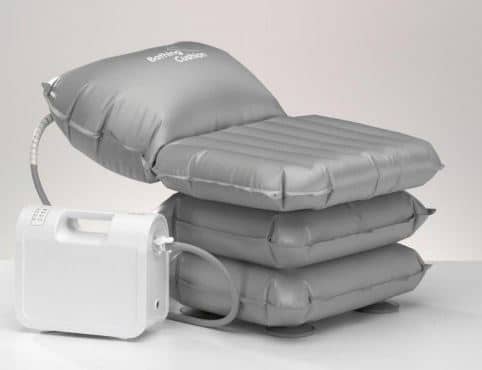 The automatic battery-powered bath cushion allows for the user to choose to leave some air in the cushion to support the back, or by releasing all of the air you can fully lie back in your bath.
Once you have taken your bath the bath this ingenious cushion can be re-inflated to lift you back to the top of your bath.
The Able2 bath cushion is battery operated meaning you don't need to have a mains socket in your bathroom and with no trailing leads you won't be tripping up.
Weighing only 2kgs (4.4lbs) the Able2 bath cushion is extremely portable, so can be taken with you when visiting friends or on holiday, and is compact and easily stored.
It takes only a few seconds to set up and is extremely stable. The bath cushion also has a function that will not allow you to lower yourself into the bath if there is not enough power to raise you back up.