The Invacare Rea Azalea wheelchair is the perfect choice for both active and not so active people due to its versatility, comfort and design.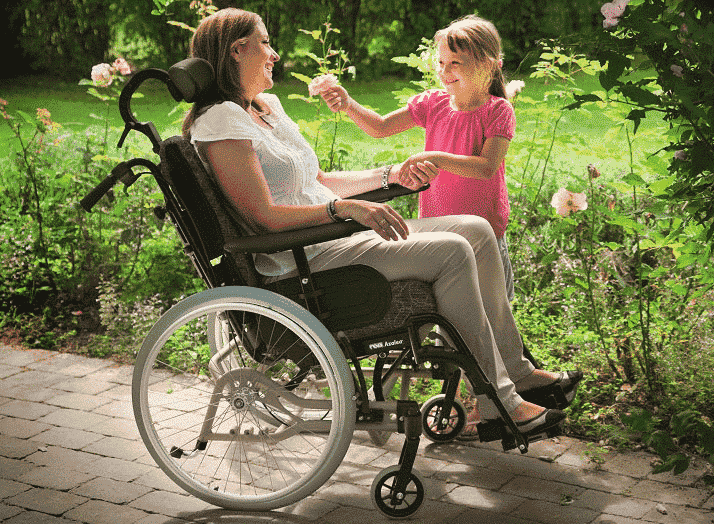 The Rea Azalea is available as a transit wheelchair with small rear wheels for propulsion by an attendant.
A  recline and tilt seating design unique to the Rea Azalea wheelchair will allow you to easily adjust the seating position to ensure you are perfectly comfortable at all times.
In order to accommodate a wide range of customer needs and body shapes the Flex 3 backrest is highly adjustable in height, width and also shape, and to ensure the client with the best fit, the Azalea offers individual size adjustments to improve posture.

In addition to the popular width and depth adjustment of the seating area, we also offer the same adjustment on the backrest.
This provides a unique combination of postural support and comfort as the adjustments are independent of one another.
The Rea Azalea wheelchair family:
Market leaders Invacare have developed the Rea Passive chair range to ensure a perfect fit and compatibility for a variety of customers. each Rea Azalea wheelchair is highly and quickly adjustable to suit individuals needs and requirements and all the chairs come with the Invacare Dual Stability System® (DSS).
---
Azalea Base
The Azalea Base wheelchair is designed for people seeking a well-made wheelchair with a custom-made seat that you would come to expect from Invacare.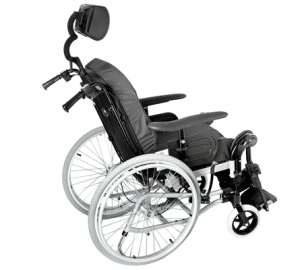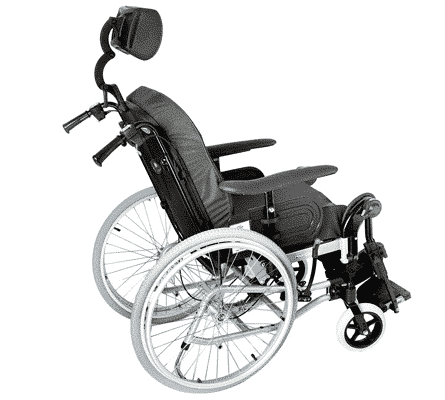 Key Features:
Transit Propulsion with Attendant Hub Brakes
Choice of 4 seat widths
Choice of 2 seat heights
Choice of 3 seat depths
Pearl Silver frame
User Manoeuvred Tyre Brakes
Anti-tippers
Adapted from the standard Rea Azalea model the Rea Azalea Base has all the benefits and advantages such as the special weight shifting system. The Rea Azalea Base model also has the 'Tilt in Space' function that ensures stability for the user when the chair is tilted.
---
Azalea Minor
With a smaller sized seat, the Rea Azalea Minor has been designed for teenagers and petite adults. As with all Azalea models the width and depth can be adjusted to suit individual requirements and with the Azalea minor, there is the 'Tilt in Space' mechanism that ensures manoeuvring is made easier and stability when titled.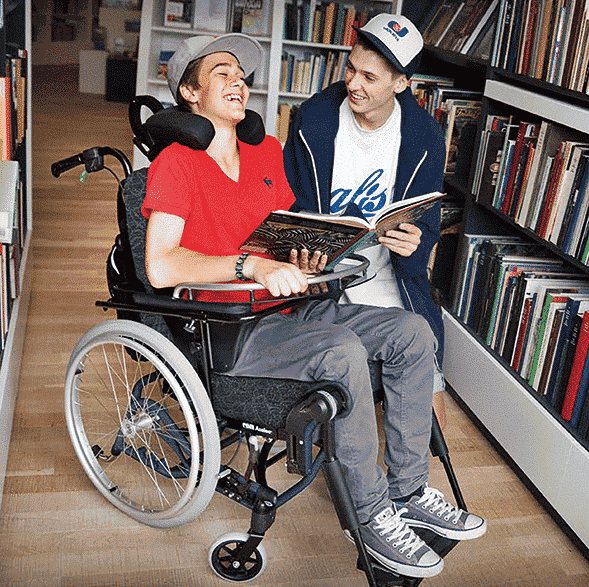 Key Features:
Backrest Plate with Braced Push Handles
Attendant hub brakes
Backrest Recline with Tilt Lock
Angle adjustable wide pad armrests
Pearl silver frame
Pelvic Belt
User Manoeuvred Tyre Brakes
Sideways Adjustable Headrest
Depth Adjustable Seat 380mm – 450 mm
Choice of 2 Seat Heights 400mm or 450mm
Seat Width 340mm (+50mm, + 100mm)
The Azalea Minor is ideal for users that require a solid stable wheelchair. The Azalea Minor wheelchair is available in pearl grey or azurite blue frame colours and a tension adjustable backrest option.
---
Azalea Tall
The Rea Azalea Tall wheelchair has been specifically made to meet the needs of tall individuals who require a tilt-in-space wheelchair with longer seat support.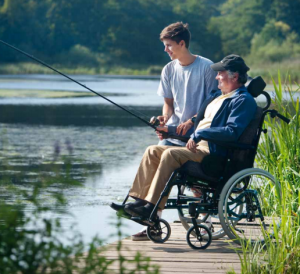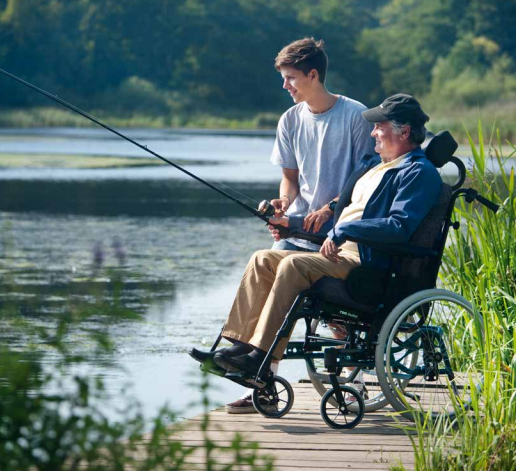 Key Features:
Quick-release self propel wheels
Solid tyres and aluminium hand rims
Angle adjustable leg rests with calf support
Flex 3 Backrest, Passad 2 Cushion
Height adjustable standard pad armrests
Chassis extender, seat height 500mm
Sideways Adjustable Headrest
Tyre brakes, Pelvic belt, Anti Tippers
Self Propulsion, Choice of 24″ or 22″ wheels
Choice of seat width 390mm to 490mm
Adapted from the Rea Azalea, the Rea Azalea Tall incorporates all of the advantages of a reliable, tilting wheelchair and offers a unique weight-shifting mechanism.
The Rea Azalea Tall offers ultimate comfort and stability for tall people needing a wheelchair.
---
Azalea Max
The Rea Azalea Max wheelchair is designed to meet the particular needs of people with extra weight.
The Azalea Max is a niche product that complements the existing Azalea family range from Invacare.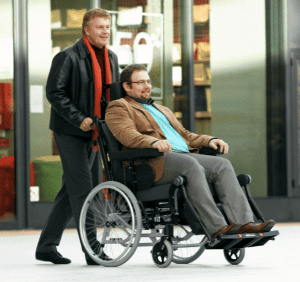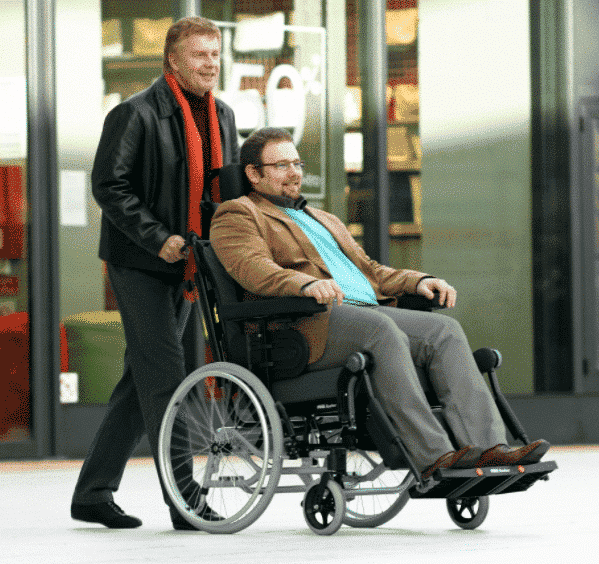 Key Features:
Tension Adjustable Backrest
Max Seat Cushion (Visco Top)
Transit Propulsion with Attendant Brakes
Angle Adjustable Legrests with Reinforced Calf Support
Seat and Backrest Recline with Tilt Lock
Width Adjustable Footplate
Sideways Adjustable Headrest
Choice of 2 Seat Heights 400mm or 450mm
Depth Adjustable Seat 530mm-600mm
Choice of 2 Seat Widths 550mm or 610mm
The Azalea Max is available in Pearl Grey or Azurite Blue frame colours. The stability in the Azalea Max originates from body length compensation in the back and leg rests, beneficial for people with limited movement and have difficulty changing position.
---
Adjustable and comfortable seating
The Rea Azalea boasts a multitude of seating options in either the self-propel or transit wheelchair models making it an excellent choice when choosing a passive wheelchair.
The revolutionary Flex 3 backrest is multi-adjustable in shape, width and height, in order to accommodate a wide range of body shapes. The frame is available in pearl grey and azurite blue and has two material options.
The Invacare® Rea™ Azalea® is a "tilt in space" passive wheelchair that ensures comfortable seating and enhanced postural support. The wheelchair is based on a single frame that can accommodate the three rear wheel sizes in different settings making it suitable for passive or moderately active clients.
Find out more about the Rea Azalea wheelchair
If you would like to know more about the Rea Azalea wheelchair range or any other wheelchairs we have on offer then please contact us today and speak to one of our expert advisors at Easy Mobility Services.
We will be able to answer any questions you have and help you find the right wheelchair for you. Alternatively, feel free to call into one of our mobility shops in Essex to browse our extensive range of wheelchairs and powerchairs.
Get in touch for availability