Easy Mobility Services have fully trained staff and experienced engineers, to install, repair and service all major Stairlifts. We deal with manufacturers which include Acorn, Brooks, Handicare, and Minivator.
---
---
We have working stairlifts in both our Colchester and Braintree showrooms for demonstration, or alternatively we can arrange to visit you to explain the various stairlifts available, to make sure you get the right stairlift that suits your requirements.

Easy Mobility Services pride ourselves on our customer service, and we are confident we can offer you the right stairlift at the best possible price.  After every installation a full product handover is completed, and to compliment our excellent after sales service, we also offer a 24 hour emergency contact number, and 'out of hours' breakdown service.
Benefits of a stairlift
---
For the thousands of people having difficulty going up and down stairs in their home, stairlifts are the perfect solution. Compared to the costs of moving home or living in a single storey building stairlifts can provide a cheaper and easier option.
Having a stairlift can help you regain that independence. It's a safe and reliable solution to tackle the difficulty of stairs.
Choosing the right stairlift
---
Choosing which staircase would be right for you might seem daunting at first so here is a guide to help you choose the right stairlift for you and your home.
There are two basic categories of stairlifts; straight stairlifts and curved stairlifts:
Straight stairlifts
Straight stairlifts are designed for staircases that are a direct line from the top of the stairs to the bottom with no bends or corners, e.g. Handicare Simplicity Series and the Brooks Lincoln.
A straight stairlift is normally very simple to install as there are generally few obstacles to overcome.
Curved stairlifts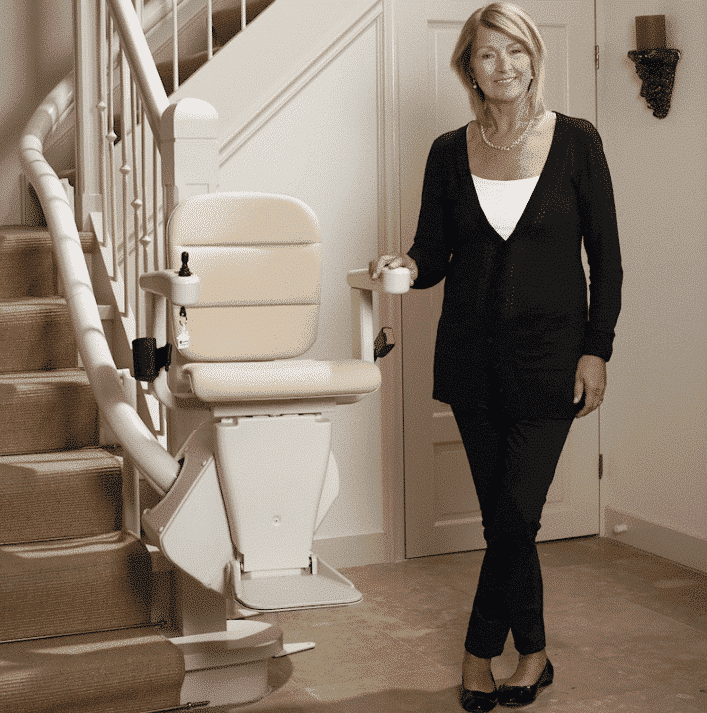 Curved stairlifts are designed for cornered and spiral staircases. Coming in two different track systems with either one or two rails.
Curved stairlifts can be described as internal or external depending on which side of the staircase they are fitted onto e.g. Handicare 2000 and Rembrandt
Both straight and curved stairlifts can be broken down into three main components:
The track which is fitted to the staircase
The power pack which is fitted to the track and acts as the drive unit
The seat which is fitted to the power pack.
Stairlifts are operated by a switch or toggle on the stairlift itself or by a wireless remote control.
A common misconception is that stairlifts are attached to the wall, however most modern stairlifts are actually attached to the staircase itself.
Type of stairlift track
---
For the stairlift to get low enough for a person to sit on, often the stairlift has to extend past the bottom of the staircase, however this can sometimes intrude on a doorway or passage. Below are the different methods in which keeping the bottom of the stairway clear is achieved:
Hinged & powered hinged track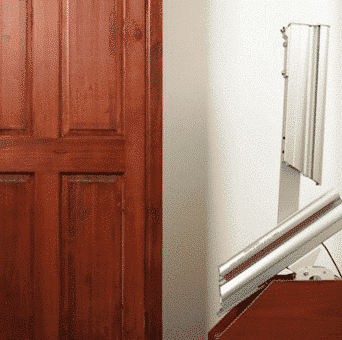 A hinge track can be folded back on itself to allow clearance at the bottom of the staircase. A manual hinge requires the user to physically raise and lower the end of the track, however an assisted gas strut hinge makes this process easier.
A powered hinge track activates automatically when the stairlift is moving using the control toggle. When not in use it can be folded away by simply holding the button on the remote. The benefit of a powered hinge track is there is no physical drain on the user as it is done automatically using a motor system.
Slide track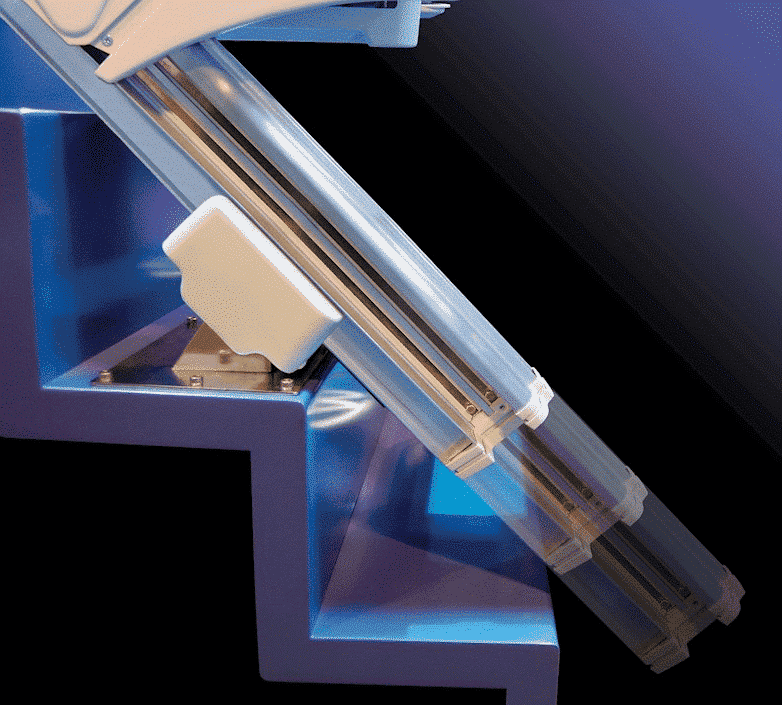 A slide track is a solution provided only by Handicare, for use with their own Simplicity range.
There is no hinge involved the track moves up and down the staircase at the same time the seat is in motion, extending the track at the ends when needed and leaving the doorway clear when not.
It is similar to the powered hinge in that it's automatic when the control is activated, but there is also a built-in sensor at the ends to stop the slide track if an obstruction is in the way.
Drop nose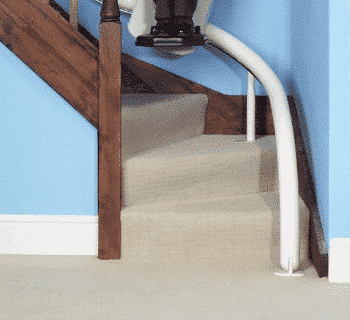 Drop Nose track is a simple curved tube, in certain specific circumstances the tube will finish closer to the stairs, this removes the need for a hinged track.
Whatever type of rail whether it is a hinged, slide track or drop nose that is best suited for you can be discussed with our friendly engineers to make sure it is the right solution.

Types of stairlift seats
---
Swivel seats
Swivel seats can turn at the top or the bottom of the staircase aiding the user in mounting and dismounting the stairlift.
A manual swivel chair would give the user a handle either side to turn the chair in that direction whereas a powered swivel would do this automatically by holding the button on the remote.
Folding footplates

Folding footplates can give the staircase more room when the stairlift isn't in use.
Similar to swivel seats you can have a manual folding chair, meaning the user has to physically fold the footplate after dismounting, as well as a powered folding footplate which is controlled automatically using the arm controller on the stairlift seat.
Your stairlift will come with two wireless remotes as standard, meaning parking and calling the chair is easy and stress-free.
This is ideal for multiple users in one household as the chair can be operated without being on it, as well as being able to park the chair on any desired floor.
For narrow stairs or users with limited knee flexion, chairs can be fitted at a 45-degree angle so they are downward facing.
The chair is easily controlled by the toggle or joystick at the end of the arm of the seat, leaving maximum space for comfort.
Installing a stairlift
---
With an average stairlift installation time of only a few hours installing a stairlift is easier than most would imagine.
Easy Mobility Services will handle every aspect of fitting a stairlift, from measuring and planning, helping you choose the right stairlift for you, installing the stairlift and showing our customers how to use it. Our experts will take care of everything from start to finish to make the process stress free for our customers.
You don't need to worry about taking any measurements in your home as we will send an expert to take a quick photographic survey of the existing stairs. They will advise any adjustments that need to be made e.g. which side of the staircase would be best and if any furniture needs to be moved.
Our fully trained engineers have installed hundreds of stairlifts across Essex and will be able to fit the stairlift of your choice quickly and neatly with the minimum fuss.
Photographic survey system
---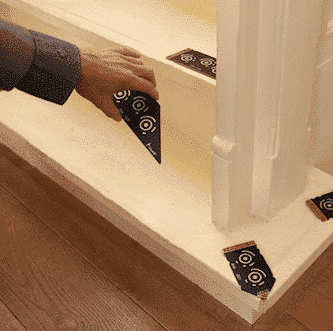 A stairlift is designed for your individual staircase, so it's important that the measurements are accurate for a perfect fit.
Easy Mobility Services achieve this by using a photographic survey system.
The photographic survey system maximises the accuracy of the measurements whilst minimising the time taken to carry them out.
Cards are placed around your staircase and using specialist software and photos of the staircase we can create a virtual 3D model of your new staircase right there in your home for you to see.
This not only ensures accurate measurements but allows you to colour match the stairlift to suit your interior. With the Handicare vision app you can share your 3D model with friends and family.
As well as the survey of the staircase we will carry out a short user assessment, involving a few simple questions in order to tweak the staircase to make it perfect for you.
Servicing & maintaining a stairlift
---
Stairlifts are simple and easy to use however from time to time they will need servicing and maintenance. Easy Mobility Services will service your stairlift comprehensively, checking the following to ensure it is still running safely and smoothly.
Service the motor brushes

Check for any track damage

Upper and lower carriage cut-out for operation

Check footrest safety edge both at the top and bottom

Make sure the circuit board connections are tight

Charging voltage connections to batteries

All wiring is clear of any crush points

Clean track rollers

Wear and tear and security

Charging pads are properly aligned

Run and test multiple times
Safety
---
Sensors are installed on the stairlift to stop it if there is any hazard or obstruction that could potentially cause a problem. The Simplicity, Handicare 1000 and 2000 all feature a diagnostic display so you can monitor the stats of your stairlift.
Seat belts are installed to suit your individual needs with a range of mechanisms such as easy release buckles and Velcro fastening. In addition to this, all upholstery is flame retardant.
A Stairlift brochure including each Mobility Stairlift model with all technical specifications is available by contacting us or calling into one of our showrooms.