At Easy Mobility Services we offer a wide range of rise and recline chairs, including single and dual motor riser recliner chairs. We have a wide range of space saving 'wall hugger' chairs and can provide rise and recliner chairs that are made to measure.
If you have a condition or aliment that makes it difficult to get into or out of a chair then a riser recliner chair could be just what you need. With electric-powered rise and recline chairs you can recline the chair into a relaxing position, then when you are ready to stand simply push a button and the chair will lift and tilt to help you get to your feet.  This means there is little or no physical effort involved to get out of the chair.
Rise & recliner chairs to suit everyone
Easy Mobility Services having a beautiful range of rise and recliner chairs to suit everyone's tastes and requirements. Rise and recliners from Sherborne and Primacare, are among the most popular chairs we have available.
Primacare Pershore
---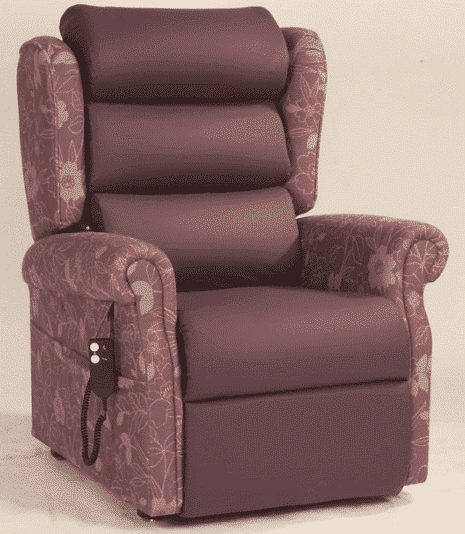 The Pershore rise and recliner chair is covered in a luxurious traditional fabric.
Sit in comfort with scroll armrests, a chaise footrest and a three pillow backrest. All the controls are stored in the remote inside a side pocket on the chair for easy access.
To make your Pershore recliner chair unique a range of fabrics, fillings and recliner options can be fitted to make sure the chair is perfect for you.  Both single and dual motor versions of the Pershore are available.
Primacare Brecon
---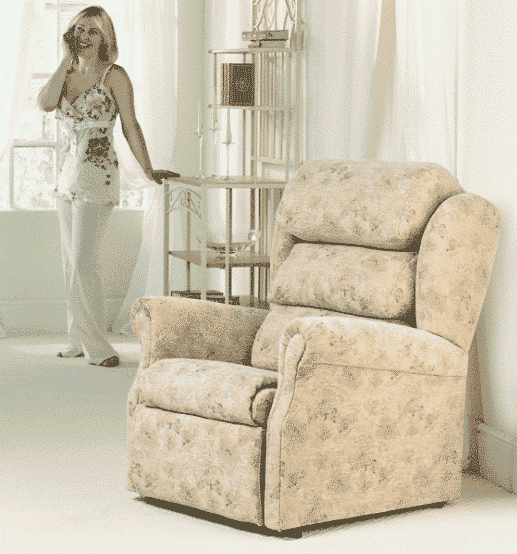 Similar to the Pershore the Brecon from Primacare also comes with scroll arms as well as a chaise footrest and a three pillow waterfall backrest. The Brecon recliner will provide you with complete comfort in your home.
The back cushions can also be modified so they are vertical to allow the user optimum comfort. Like the Pershore the Brecon is also very customisable and comes in a range of fabrics, fillings and recline options to suit each individual.
Sherborne Lynton
---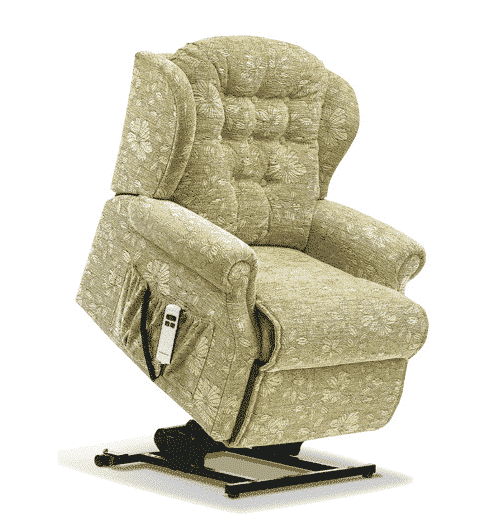 From Sherborne Upholstery comes the Lynton riser recliner chair range. This chair can stand you up and lay you down as well as put your feet up in front of the TV.
With an incredibly soft and supportive backrest and seat complimented by chaise seating and a fibre filled back cushion the Lynton range represent quality throughout.
With both a single and double motor options the Lynton from Sherborne Upholstery has been designed to assist those with arthritis, rheumatism, Ms and other mobility restricting conditions.
Primacare Denbigh
---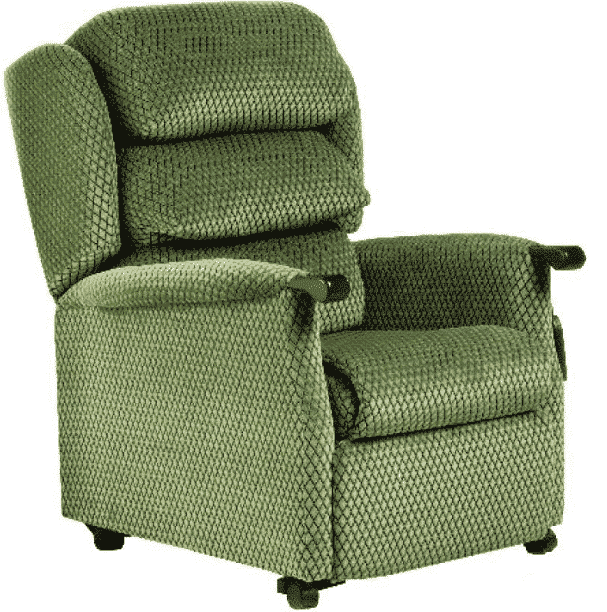 Finally, one of our most popular chairs is another from the Primacare range, the Primacare Denbigh is one of the most traditional and authentic riser recliner chairs on today's market.
Operated by a remote control kept on the side of the chair the Denbigh offers padded armrests and a chaise footrest to prove comfort and support to the user.
Like other products from Primacare the Denbigh is almost fully customisable and a range of recliner options and fabrics as well as cushion formations allow you to customise the chair to suit your needs.
For more information on rise and recline chairs, feel free to call us, contact us or visit one of our Easy Mobility Services showrooms in Essex where you can test out a rise and recliner chair yourself.