Quickie Jive M² Sedeo Ergo Powered Wheelchair
Redefining powered wheelchair technology in every way, the new JIVE M² Sedeo Ergo from Quickie is unlike anything else.
The JIVE M² Sedeo Ergo sets the bar for Mid-Wheel Powered Wheelchairs. Experience excellent manoeuvrability, comfort and performance as well as some of the latest powerchair technology.
An advanced biomechanical seating system, Spider Trac 2.0 suspension and being able to control other devices around your home wirelessly are just some of the incredible new technological features implemented in the JIVE M² Sedeo Ergo.
Advanced control
A R-Net advanced joystick is installed to your JIVE M² Sedeo Ergo as standard, this allows you to control devices and appliances in your home from your fingertips whilst sitting in comfort. With easy to use controls and a HD display the joystick connects via iDrive, infrared or Bluetooth to a whole range of devices such as; Phones, Computers, Tablets, Entertainment systems and more.
You can change the functions of the joystick easily with Quickie assignable buttons meaning you can personalise your R-Net advanced joystick to you and the devices you use most. You will never have to worry about where a remote is again as it's all conveniently placed literally in the palm of your hand.
The 5-switch box gives you five different functions to switch between easily using the buttons and paddles on the controller, with the option of adding another five functions built in – that's ten functions to switch between and control from the comfort of your JIVE M² Sedeo Ergo.
Biomechanical seating system


You must try the incredible biomechanical seating system on the JIVE M² Sedeo Ergo it's one of the most comfortable and adjustable seats in todays market. Ergonomically designed to mirror the body's natural positions it really helps to maintain good posture and support. The biometric repositioning feature means that however you move your body will be naturally positioned to the seat at all times. This is incredibly useful as it means you always have contact with the chair so using footplate, headrest or chin controls is never lost.
It also means a reduced risk of sliding during de-recline, as the JIVE M² Sedeo Ergo transitions from a reclined position to a seating position it passes through an intermediary tilt position, this is especially beneficial if you have difficulty re-positioning yourself.
Make your JIVE M² Sedeo Ergo fit you, with six completely customisable seating options that can be programmed to any position. Featuring a powerful 175-degree power reclining backrest allows you to fully lie down as well as the previously mentioned anti-shear biometric repositioning feature the headrest and optional chin control will stay in place as you recline. The seating system on the JIVE M² Sedeo Ergo is truly unique and will provide you with some of the best comfort and adjustability from any powerchair available today.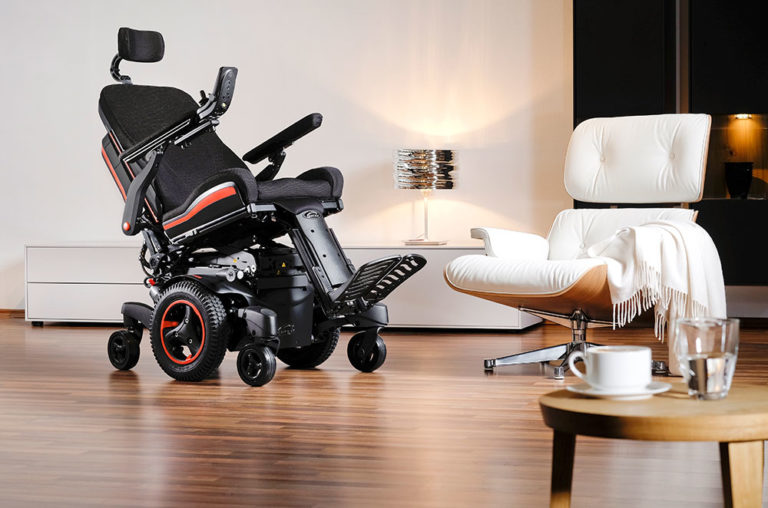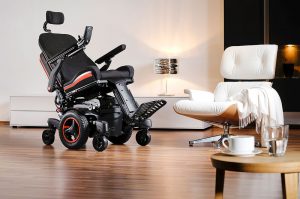 Mid-wheel drive powerchairs are taken to the next level when you take a look at the performance and handling of the JIVE M² Sedeo Ergo. Being able to raise up to 30cm whilst travelling at speeds of up to 3mph and being able to turn on a dime with the small mid-wheel drive base means manoeuvring tight spaces is a breeze.
Featuring the latest SpiderTracTM  2.0 Suspension technology means driving over uneven terrain indoors or out is a breeze. This suspension system not only gives one of the smoothest rides indoors or out it also means the JIVE M² Sedeo Ergo to descend kerbs as high as 10cm with no hassle. As well as this the SpiderTracTM  2.0 Suspension technology completely eliminates unwanted forward pitching, perfect for driving down kerbs or steps!
Customise and Style
Additionally, there is a sports suspension option available offering a stiffer, more responsive sportier ride. As well as an optional gyro tracking system which can automatically detect small deviations from your path and corrects them, meaning your drive is a lot less demanding and much safer each time.
The JIVE M² Sedeo Ergo looks great from any angle – with tailored upholstery, sharp lines and stylish minimalistic design you will look and feel amazing on every drive. A choice of 6 attractive colour inlays will contrast with the sleek black bodywork really demonstrating just how high quality the JIVE M² Sedeo Ergo really is. Everyone's style changes with time and if this is the case for you then just swap out the colour inlays easily, giving your JIVE M² Sedeo Ergo a fresh new look.
The JIVE M² Sedeo Ergo has been approved for transportation in a vehicle after being transit in accordance with ISO 7176-19 tested meaning taking your powerchair away with you is easy.
Get in touch for availability