Choose your Favourite Colour
Considered the ultimate travel chair from Pride Mobility comes the Pride Go Powered Wheelchair. Focusing on incredible portability, excellent manoeuvrability as well as keeping a stylish design the Pride Go is really one of its kind. Being designed mainly for indoor use the Pride Go can also be used outside. Pride Mobility has created a high-quality portable power chair you can use anywhere for an affordable price.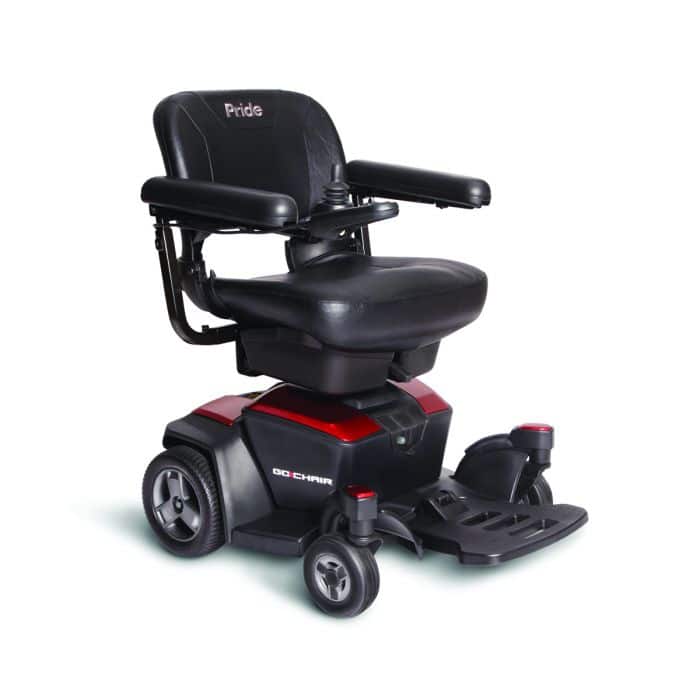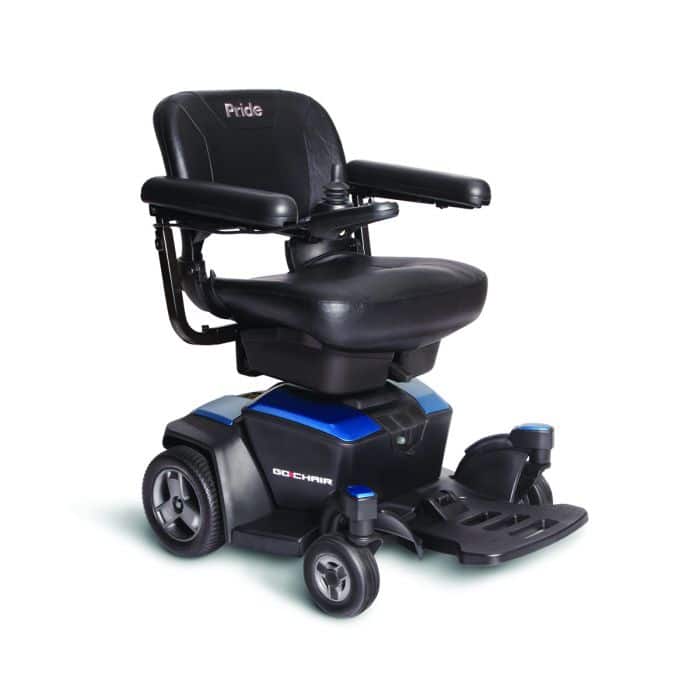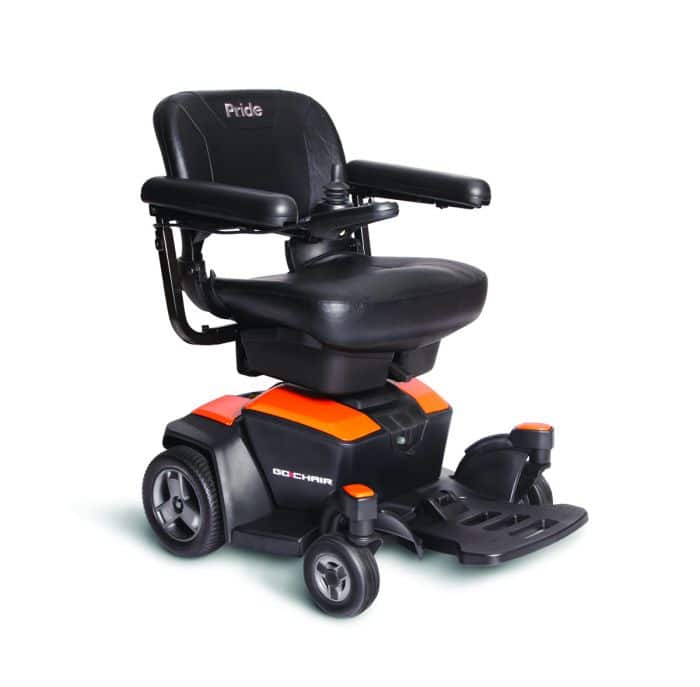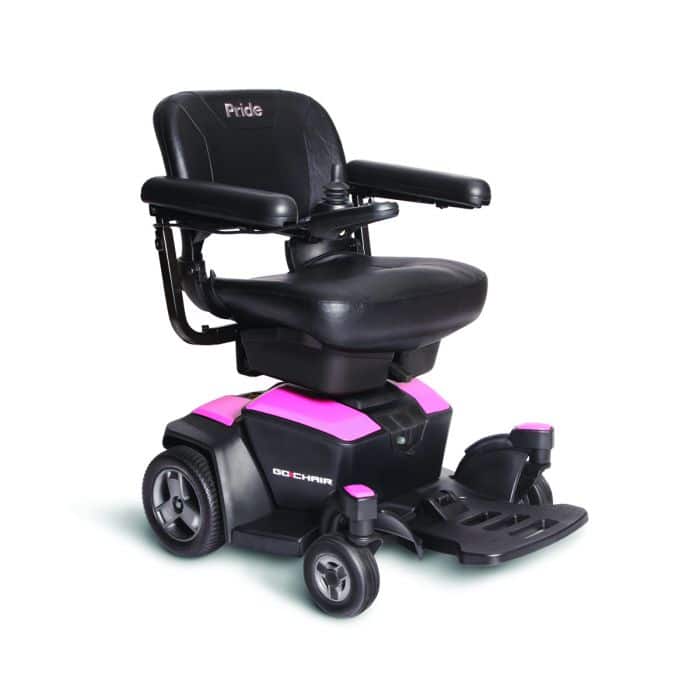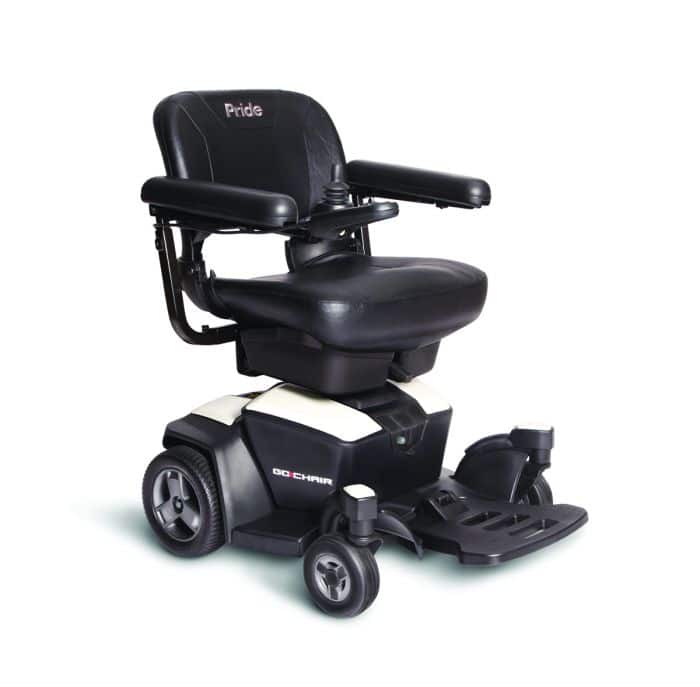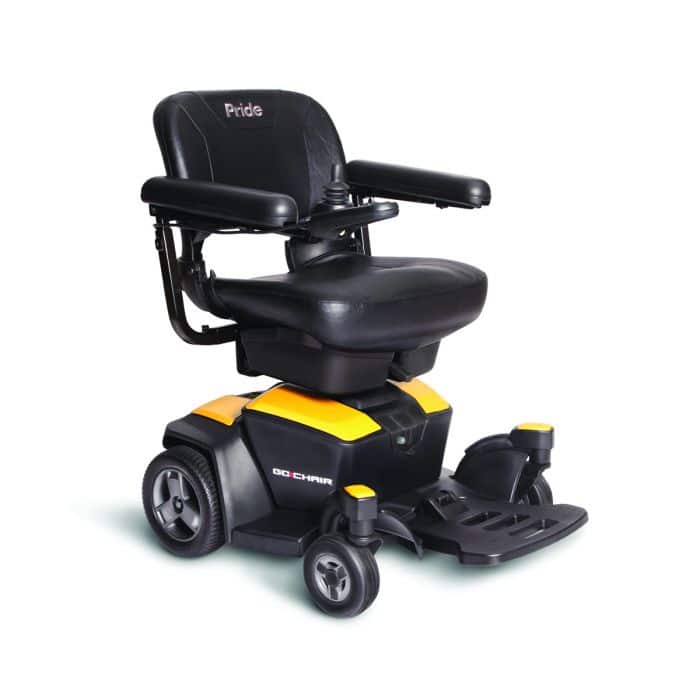 Puncture Proof Tyres
The tyres on the Pride Go are solid, this is ideal for smooth indoor surfaces as well as meaning you will never have to deal with the hassle of fixing a puncture.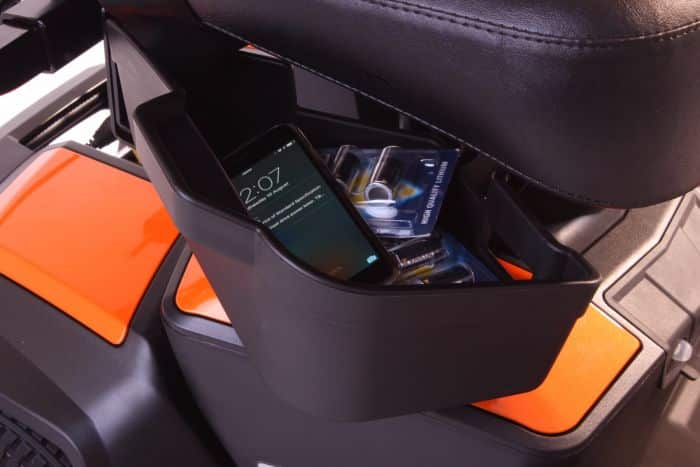 Handy Storage
Thanks to the handy under-seat storage offered by the Pride Go powerchair you can take your day bag and valuables with you and keep them safe,secure and close to hand in the spacious storage solution.
Portability
The Pride Go has been designed to be incredibly portable, with feather-touch disassembly it can easily be dissembled into 5 pieces and stored in the back of your car boot. This is perfect for those with an active lifestyle and for users who often travel long distances but still need quick access to a powerchair. The frame of the Pride Go has been simplified which not only makes it much easier to maintain but the disassembly of the chair is so easy to do and it doesn't require any tools.
The Pride Go power chair has been made to a high quality with portability in mind. With this power chair, you will be able to enjoy hassle-free travel and independence on the go.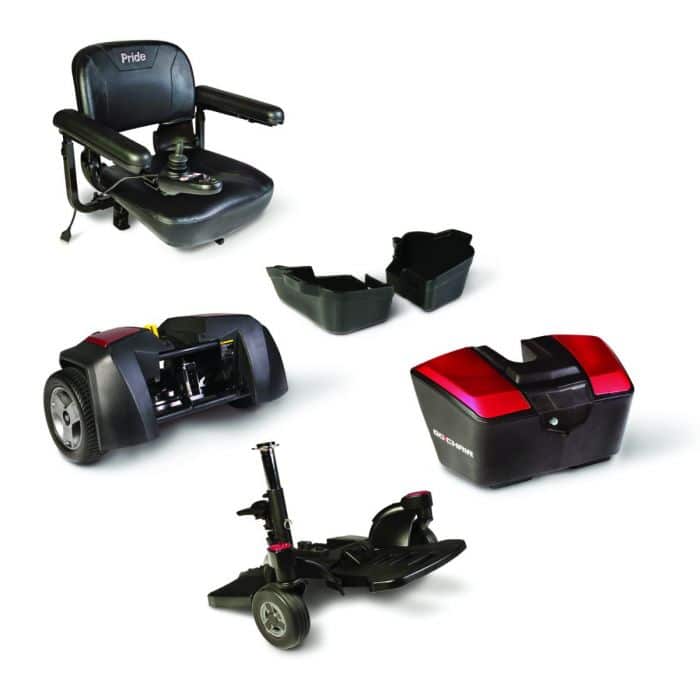 Twin Motors for Easy Control
Manoeuvrability was very important to Pride Mobility when designing the Pride Go and they didn't take any shortcuts. Twin motors ensure traction to the ground is tight as well as keeping the handling precise.
On one full charge, the Pride Go can travel up to 10 miles, this is more than enough to cover daily usage and ideal for short trips to the shops or walking the dog. It has a maximum speed of 3.5mph which is high enough for both indoor and outdoor use.
The Pride Go electric wheelchair has some really innovative and useful features, one of which is the use of a joystick control.
Being able to be mounted on either side the joystick control can be used to power and steer the power chair. The battery in the Pride Go has the option to be charged directly or via the joystick controller, this is something you don't see in many other power chairs.
The armrests are flip-up to allow easy access in and out of the chair, as well as the footrests also being flip-up and height adjustable to give each user that customisability. A main feature of the Pride Go is how attractive the design is, coming in a range of 6 striking colours you can find the perfect design for you.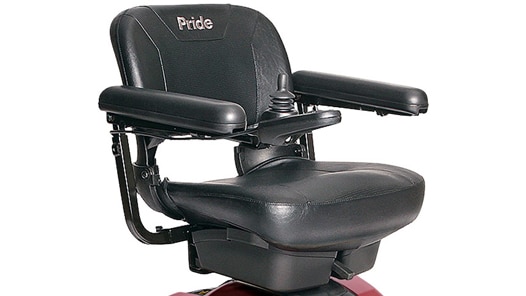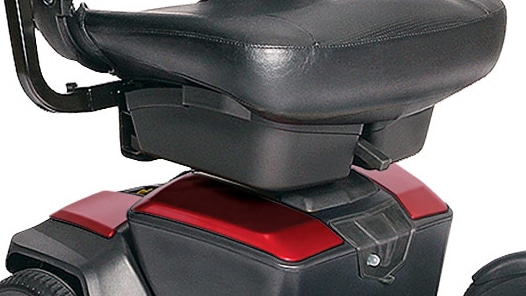 Without hesitation, I can say that the quality of the service I recently received from Ben Upson was nothing short of outstanding.  Furthermore, I will definitely recommend him and Easy Mobility Services to others seeking to buy a wheelchair or other mobility aid.
Dr D Grange
We were very pleased with our purchase of a riser recliner and would certainly recommend the company to our friends.
Mr & Mrs Dennis
I wish to place on record my sincere gratitude and admiration for the way that, as in all my previous contact with Easy Mobility over several years, your customer service goes well beyond what might be expected from a busy organisation.
Tony Millett
I would just like to testify to the excellent service provided by Easy mobility in Braintree. I spoke with Ms Claire Tracy within a week Claire had the scooter that I asked for delivered to me at my address in Somerset. Claire is a very kind and helpful lady and credit to Easy mobility.
Bernard Dray
Easy Mobility Services were diligent, tidy, and exceptional when sorting out our problem.
Mrs. Dean
I just want to say, big thank you to Paul. I am so pleased with my new Illusion scooter & such great service from you and your company. I have used the scooter three times now, what a big difference compared to my old one.
Great service and no pushy sales speak, just a very good understanding of your product and my mobility needs, thank you again.
Alvinnia Lantree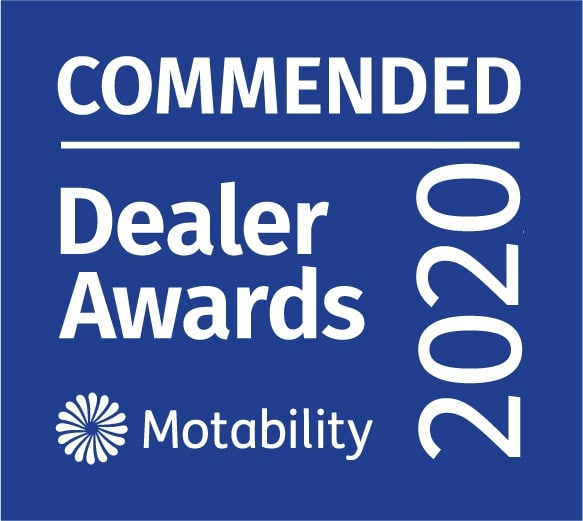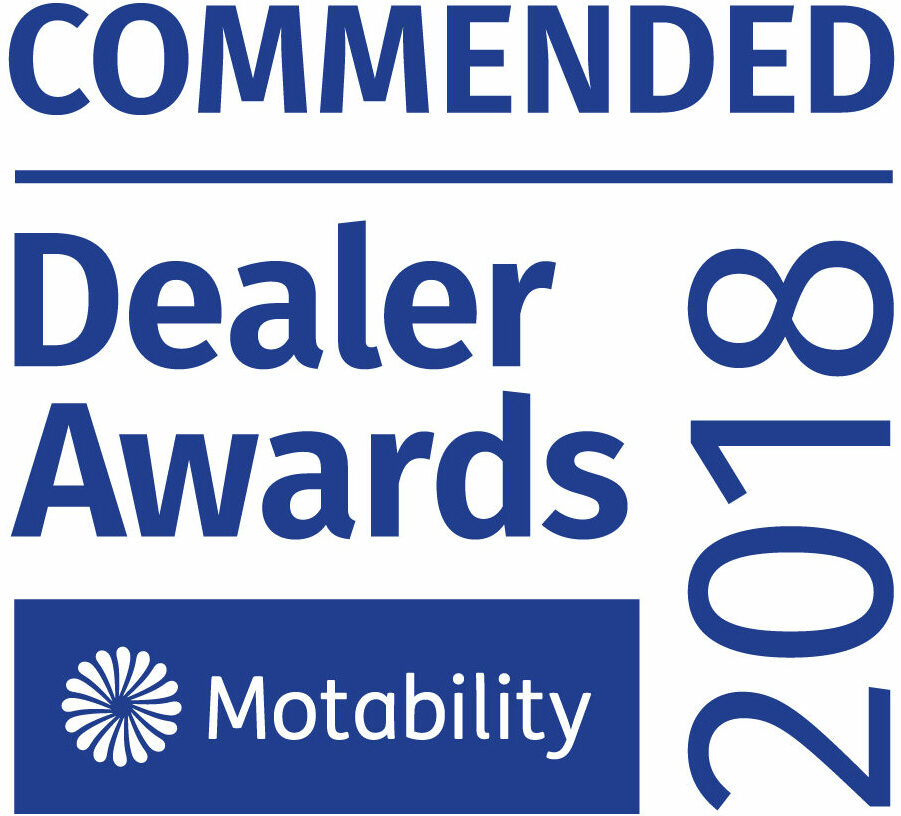 ★ Award Winning Customer Service ★
Why pay extra for a premium service when it's FREE with Easy Mobility Services
When our customers buy a Scooter, Wheelchair, Rise and Recliner Chair, Bed, or Stairlift they will receive our White Glove Service for free.
We will contact you in advance to arrange a delivery day that suits you. Upon delivery, we will, set up or install the product at your convenience and in the comfort of your own home. We will provide a full demonstration of the product, and carry out multiple point checks to ensure it is in full working order and ready for you to use. Our friendly consultation will cover every aspect of how to use the product and answer any questions you have.
We'll never leave you with unwanted packaging as all of this will be taken away or unboxed at our distribution hub before it reaches you.