If it is comfort you are looking for then you don't have to look any further than the Pride Apex Travel mobility scooter. This smart new scooter has both front and rear suspension to ensure maximum comfort for the user.
The front and rear suspension, rarely found on other mobility scooters give a very smooth ride even over uneven and bumpy surfaces. This is down to the Comfort-Trac advanced suspension (CTS) which softens out bumps on the pavement giving an exceptionally comfortable ride. Please feel free to come into one of our showrooms and try it out for yourself, we think you will be amazed at how smooth a ride you get with this lightweight and versatile mobility scooter.
Packed with features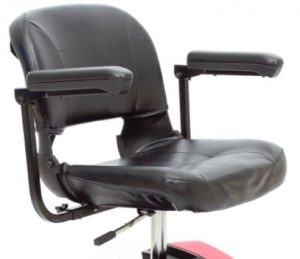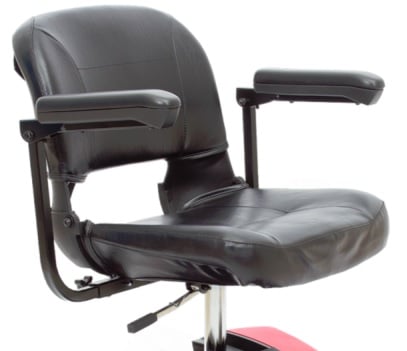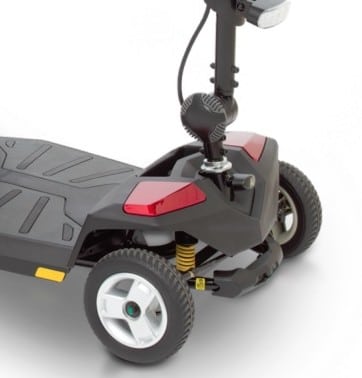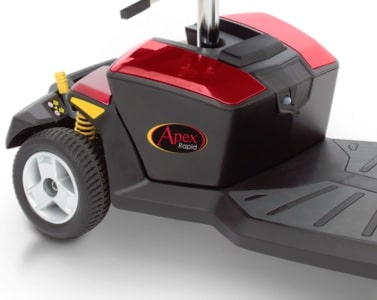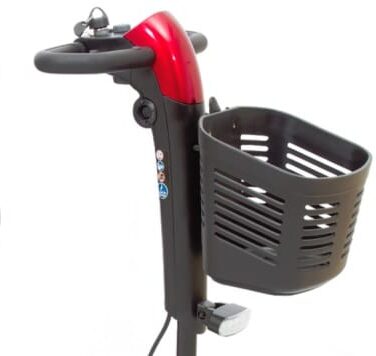 Together with having the latest suspension technology the Pride Apex Rapid mobility scooter is highly portable and can easily be dismantled in a matter of minutes and due to its compact design features will fit in any car boot.  Thanks to the easy disassembly allowing for the scooter to be taken apart. The heaviest piece weighs just 16.6kg so can effortlessly stow or unpacked for journeys.
As you can see the Pride Apex Rapid is a very smart and stylish mobility scooter which comes with two sets of blue or red changeable panels. Other quality features include a comfortable rotating seat with a weight capacity of 21.4 stone, ergonomic delta handlebars and good ground clearance.
Extra features such as an LED kerb light ensure the scooter has maximum visibility, a wraparound delta tiller, storage basket and high-level charging port in the tiller which means you can charge the battery without having to remove it make this mobility scooter a great all-rounder, comfortable, stylish and practical.
Pride Apex Rapid Travel Scooter Dimensions
Model Number S50LX
Overall Length 39.75″
Overall Width of Base 20.5″
Rear tyres 2.5″ x 8″ solid
Front tyres 2″ x 8″ solid
Ground clearance 1.5″ at the motor
Turning radius 33.5″
Speed Up to 4.4 mph Maximum
Weight 85.4 lbs. (without) battery pack
Weight capacity 300 lbs. Maximum
Off-board Battery Charger
Battery weight 19.6 lbs. Each
Battery Requirements(2) 12V deep-cycle (standard
If you're looking for a great lightweight and easy to manage mobility scooter The Pride Apex Rapid Travel Lightweight Mobility Scooter could be just what you need. Feel free to call or visit your local Easy Mobility Shop for more details.