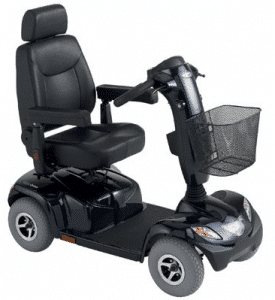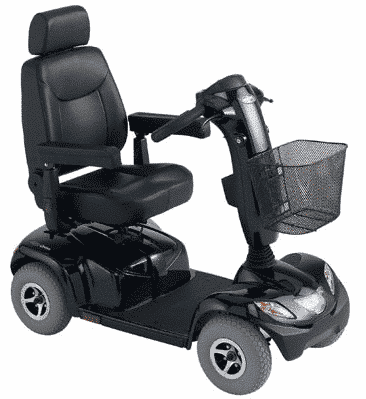 The Orion mobility scooter from Invacare has so much to offer and could be the perfect scooter for you. Invacare is known for their consistently well-engineered and reliable products and the Orion is no exception.
Ideal for those who are limited on space and don't want to deal with the bulk of a large mobility scooter the Orion is relatively compact, incredibly stable and packed full of innovative features.
"One of the most comfortable mobility scooters"
Having the safety features necessary the Orion is a road-legal, class 3, 8mph mobility scooter. Featuring a unique lighting system consisting of a dual bulb headlight, indicators and a heavy-duty integrated brake light means you will be able to see and be seen as you drive. An electronic speed reduction feature is also installed to lower your speed around bends keeping the handling safe and smooth.
Being able to maintain stability and control as you drive gives you freedom of independence and an enjoyable ride. An important feature also included is the two-step disengaging lever.
This feature stops the Orion from freewheeling, preventing any potential accidents if accidentally knocked out of drive mode.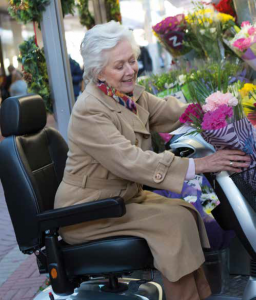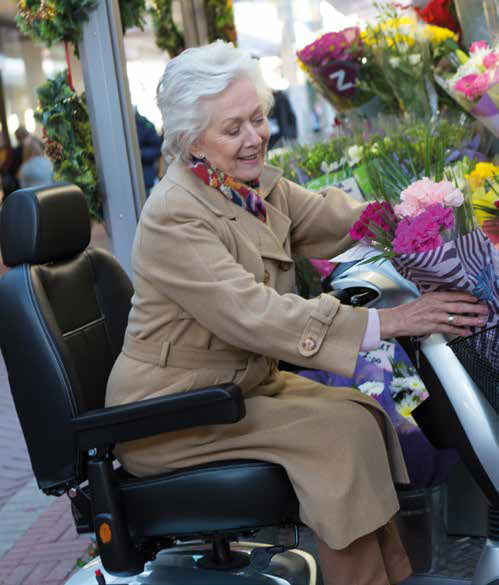 If your battery needs to be charged you will be alerted by a visual and an audio warning from the onboard electronic system giving you peace of mind that you won't run out of charge when you are out and about.
Large 11 inch pneumatic tires, 4 inch ground clearance and a fully suspended chassis will keep you comfortable for longer on any terrain. The Invacare Orion is one of the most comfortable mobility scooters you can buy today.
The chassis suspension system has been developed to easily deal with small obstacles and uneven ground keeping your journey as smooth as possible.
A completely adjustable padded captain seat comes as standard with the scooter meaning you can position your Orion to suit you. Being comfortable as you drive is incredibly important to reduce aches and joint pains.
Being able to travel up to an incredible 26 miles on a single charge and carry a user of up to 21 stone surpasses most other mobility scooters in its class. This performance is down to its powerful motor and large battery giving you the capacity to travel further without the worry of running out of charge whilst on the go.
The important components such as the motor and electronics are protected from corrosion and splash damage, further preventing any malfunction.

Whether it's a road trip or popping to the shops, the Invacare Orion mid-weight mobility scooter has the features to get you there stress-free. The tiller can be adjusted to each individual to suit how you want to drive. The steering bar itself has been ergonomically designed to help prevent fatigue in your arms and hands-on longer journeys.
A fully responsive hand brake means you can stop the scooter quickly if needed. There is also built-in anti-splash guards to protect the axle and electronics from water splashing up.
"A great all-rounder"
A front basket is equipped as standard however Invacare also produces a wide range of storage options which can be fitted including; a fully lockable front box, a crutch and cane holder and a cup holder. A windscreen or canopy can also be fitted, keeping you protected from the harsher elements. As well as a heavy-duty storage cover which can be incredibly useful if you plan to store your scooter outside.
The Orion is incredibly reliable and has been designed to be easily serviced. Removing the top cover allows access to all the main internal workings such as the batteries, electronics, the motor and cables. Charging the battery is easy with the off-board charging kit meaning you can store the scooter whilst the battery is being charged in another location.
The Orion also comes in a 3-wheeled variation with a slightly lower maximum speed of 6mph. As well as coming in the classic blue or silver colours the Orion has recently been updated giving you the option of an attractive red finish along with black tyres.
Being one of our most affordable 8-mph mobility scooters the Orion really stands out. A reliable, high quality built mobility scooter with an incredibly long driving range and unrivalled comfort.
If you want to know more about the Invacare mid-sized mobility scooter or any other scooters in our range please contact us or call into one of our showrooms across Essex and talk to one of our friendly staff who will be able to answer any questions you have.
Orion Mid-Sized Mobility Scooter Features & Dimensions:
| | |
| --- | --- |
| Width | 24.5 in (62.5 cm) |
| Length | 51 in (129 cm) |
| Weight | 17.3 st (110 kg) |
| Seating | Rotating, adjustable, folding |
| Weight capacity | 21.4 st (136 kg) |
| Suspension | Front and rear, seat-post also available |
| Speed | 8 mph (12 kmph) |
| Range | 26 miles (42 km) |
| Battery size | 2 x 12 V (50 Ah) |
| Wheel size | 11 in (28 cm) |