Handicare Van Gogh Curved Stairlift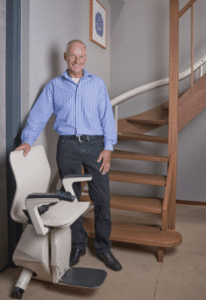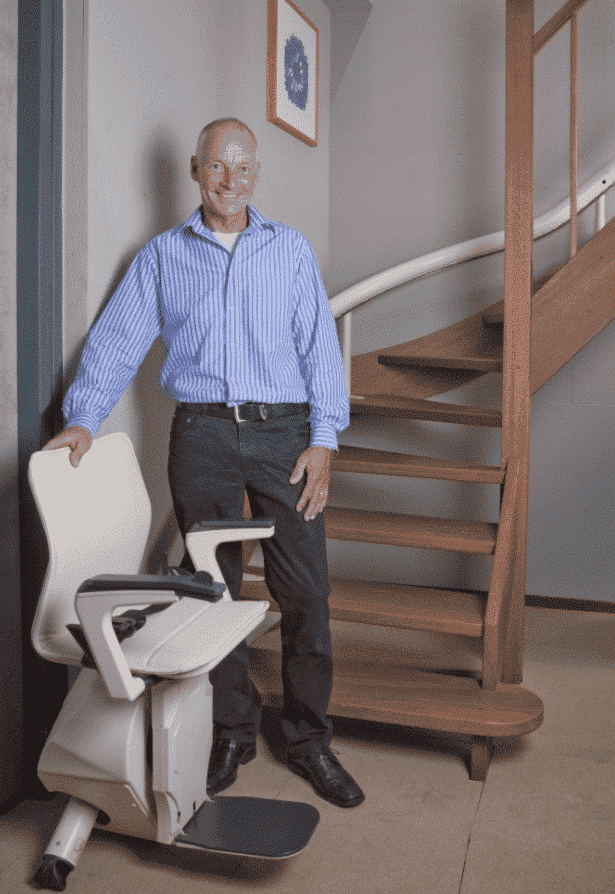 The Van Gogh curved stairlift is packed with features, and due to its price versus performance, it is one of the UK's most popular curved stairlifts.
This curved external (fitted to the wall and not the staircase/bannister) stairlift offers a fully customisable solution for each staircase and can be equipped with several types of seats which are available in various colours.
The Van Gogh curved stairlift gives you the freedom to make your choice to best suit your requirements and the decor of your home.
For even more comfort, you can also add to your stairlift one of the many additional functions that we offer.
Van Gogh stairlift seats
Alliance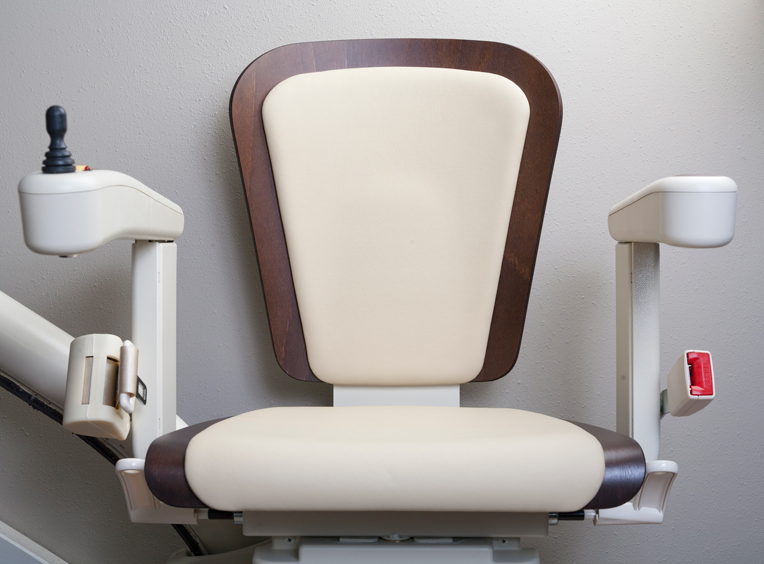 The Alliance seat is very easy to clean and is covered with sturdy polyurethane with a leather grain effect.
The Alliance seat automatically swivels smoothly towards the landing which ensures getting on and off the stairlift is hassle-free. The seat and the backrest have been ergonomically designed for ultimate comfort for the user.
The seat and the backrest have been ergonomically designed for ultimate comfort for the user and there is a retractable seat belt which automatically adjusts to the required length and retracts after use.
The Alliance seat also features a powered footrest and armrests that will fold away to save space when the stairlift is not in use.
Elegance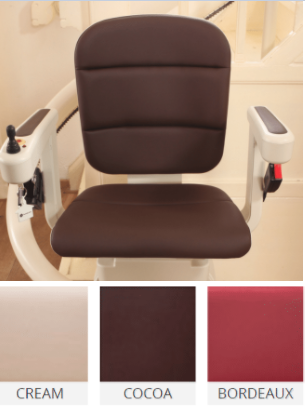 The new elegance chair for the Van Gogh curved stairlift is a combination of style and comfort.
The elegance has a super soft padded seat and together with armrests that can be adjusted to the users' wishes makes this seat a perfect choice for people looking for comfort and performance.
The Elegance is covered with a beautiful covering which has been treated with a protective layer that ensures it is easy to clean.
Available in a choice of colours the Elegance stairlift seat is the perfect choice when thinking about matching the stairlift and furnishings of your home.
Classic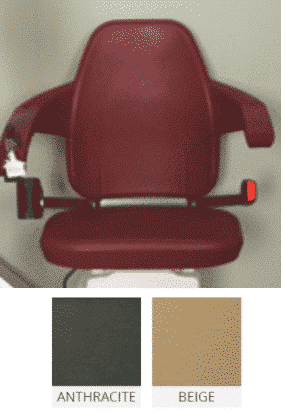 The classic seat for the Van Gough curved stairlift has been designed with the collaboration of physiotherapists and occupational therapists.
Their expertise has resulted in a stairlift chair that is both ergonomic and comfortable.
This classic seat has a high-quality plastic coating for protection, leather grain texture, and is easy to wipe clean.
All seats in the Van Gogh line have a manual pivoting function as standard. The Classic and Elegance seat can also be equipped with an automatic pivoting function for even more simplified use.
Stairlift installation
Easy Mobility Services have qualified and experienced stairlift installers who use the latest photographic technology from Handicare to ensure you are completely happy with how the stairlift will look in your home before the stairlift is installed.
Fitting a stairlift will normally only take a morning or afternoon to complete so there is minimal disruption in your home and our qualified and experienced stairlift installers will leave your home neat and tidy once the installation is complete.
Our initial survey of your stairlift will be a chance for you to ask all the questions you need to. Our experts will be able to give you any advice you need when deciding the right stairlift for you and recommend the best stairlifts for your home and budget.
Find out more about stairlifts and stairlift installations
Having a stairlift installed can feel like a big step but compared to the alternative of having to move home it soon becomes far less of a hassle. Easy Mobility Services take pride in providing a customer service that is second to none and we know that deciding to have a stairlift fitted can feel like a big step.
We aim to take out the stress and worry for you by ensuring that you are completely happy with things every step of the way, and have complete trust and confidence in our ability to get you the perfect stairlift.
If you want to find out more information about stairlifts please read our stairlift guide or simply call us and speak to one of our friendly staff, or come into one of our mobility shops in Essex. We also have working stairlifts at our Colchester and Braintree mobility shops for you to try out.

Get in touch for availability