Handicare Simplicity 950 Stairlift
Handicare is one of the world's largest and most trusted manufacturers of stairlifts and the Simplicity 950 stairlift is a testament to the care they put into their products.
They have helped thousands of people maintain their independence by providing reliable and safe solutions for anyone having difficulty climbing up and down their stairs.
The Simplicity Straight stairlift is one of the most popular stairlifts available.
If you do not require a powered swivel option and your home has a straight staircase the Simplicity Straight stairlift offers a reliable, cost-effective and simple solution to the problem of climbing up and downstairs.
The Simplicity seat swivel as standard is manually operated but a powered footplate can easily be added if needed.
As standard, the Simplicity 950 stairlift comes with a clip seat belt for the users' safety and is available in neutral sand coloured, easy to wipe clean flame retardant fabric.
Continuous Charge
A great feature of the Simplicity series track is its ability to charge the batteries whenever and wherever the lift is parked. This effectively means that the lift can be parked on any part of the track when not in use and the batteries will still be charged.
Hinge options
The Simplicity 950 stairlift track can be fitted with either a manual (gas strut assisted) hinge or the innovative Slide track which is only available on Handicare stairlifts. The slide track removes the need for a hinge as the track moves automatically up the staircase at the same time as the seat meaning there is no obstruction at the top or bottom of the stairs and you don't have to manually lower it.
The slide track is fitted with smart sensors that will stop the track should it encounter an obstacle.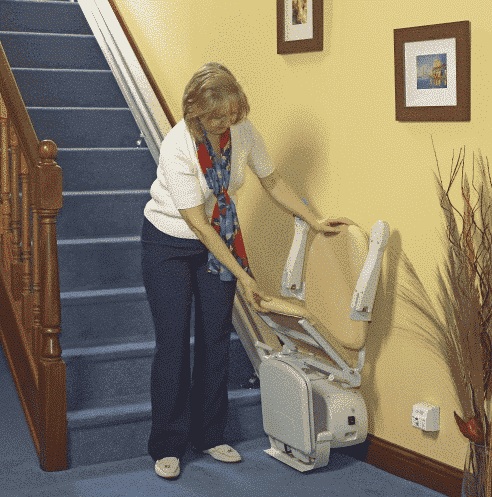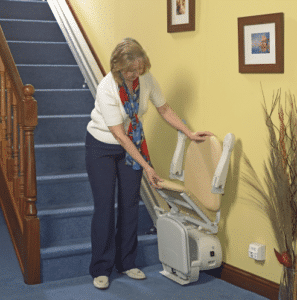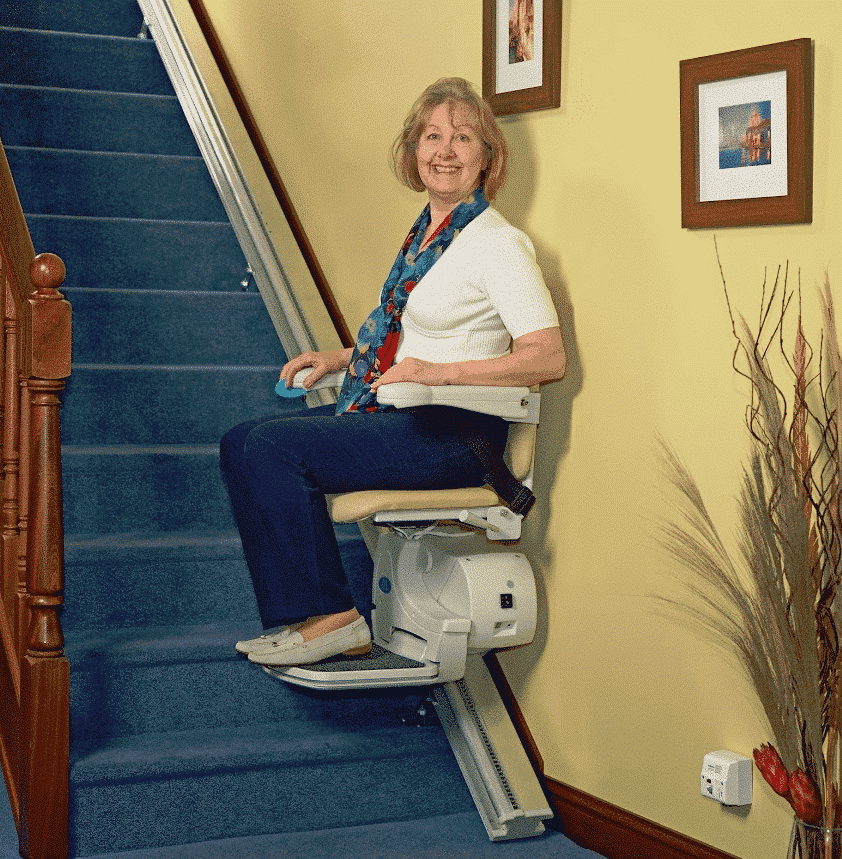 ---
Installing your Simplicity 950 Stairlift
Easy Mobility Services will handle every aspect of the stairlift installation for you. We will be able to discuss and assess which stairlift is right for you and your home to installing the staircase and showing you how to use it.
We can discuss and assess which stairlift is right for you and your home and install the stairlift in just a few hours and then show you how to use it.
We use the latest photographic survey system to accurately map the measurements and can then show you what the stairlift will look like once installed using the Handicare Vision app which you can then show to your friends and family.
We realise that having a stairlift installed in your home can feel a bit daunting so we want our customers to be completely happy and confident before they make up their minds.
For more information about having Simplicity 950 stairlift installed in your home, you can read our guide to stairlifts or contact us and talk to one of our friendly staff who will be more than happy to answer any questions you have.
If you want to try out a stairlift for yourself we have working stairlifts in our Colchester and Braintree mobility shops.
Download the user manual


Get in touch for availability