The GO GO Elite Traveller Sport lightweight scooter is packed with fantastic features as standard. The innovative design offers a larger deck space, a built-in USB port located in the tiller, large 9-inch wheels, a capacity weight of over 23 stone, and all-around LED lighting.
These are just a few of the amazing features of this truly exceptional lightweight scooter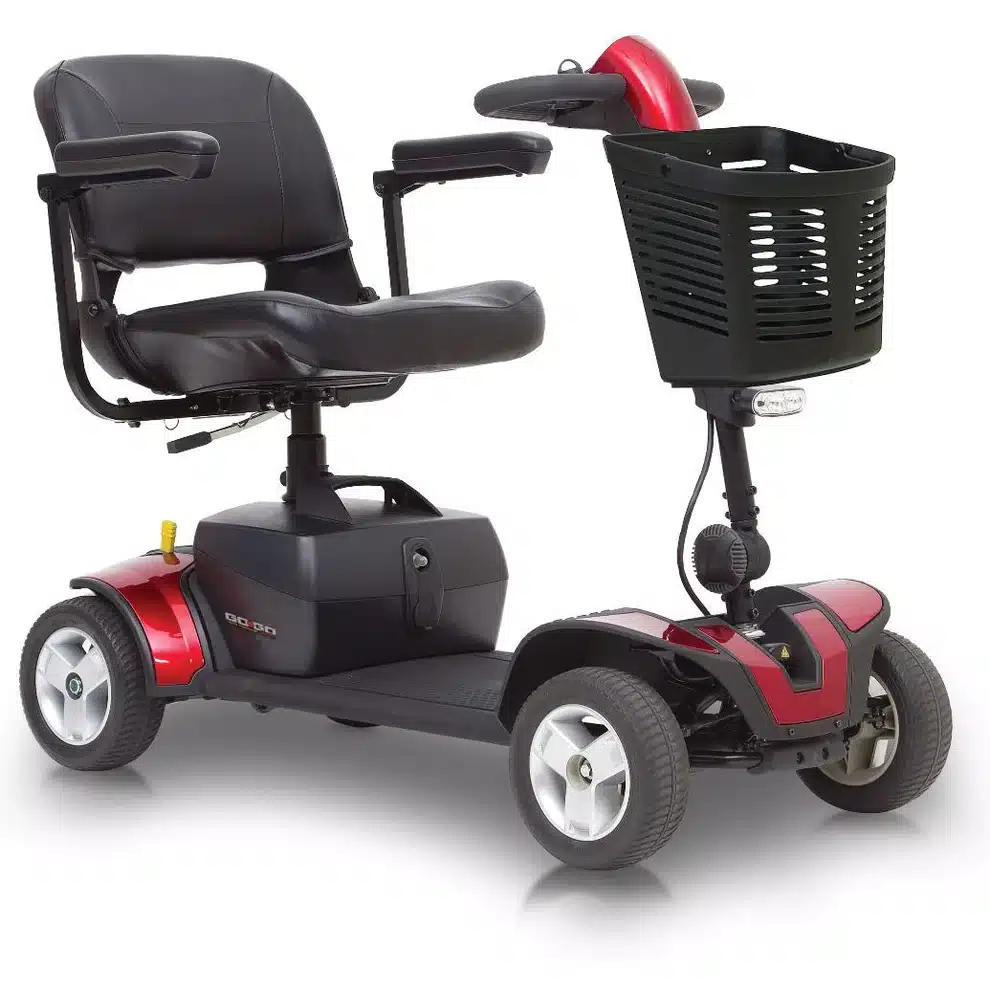 The GO GO Sport mobility scooter has a rear basket which is essential if you are regularly carrying goods or shopping allowing you to be comfortable with the extra legroom available.
Located just behind the drivers seat your basket is a perfect option to meet your storage requirments. Having a rear basket on your mobility scooter allows you to carry larger goods such as your grocery shopping and still have them close to hand.
Rear View Mirror
With this 'no tools needed rear view safety mirror you can have peace of mind knowing what's going on behind you without having to continually look around.
For users who have restricted neck and head movement the rear view mirror is essential and makes navigating through busy streets, sidewalks, and parking lots so much easier and safer.
With this rear view mirror you can increase your visibility, safety and use your scooter with peace of mind.
Lap Belt
Feel secure when using you GO GO mobility scooter with a fitted lap belt. The lap belt is available in several different sizes to accommodate each individuals size and shape.
The lap belts come in two different styles, a metal tab-style positioning belt and a reusable hook-and-loop fastener style positioning belt. Our trained staff at Easy Mobility Services will be able to ensure you have the correct lap belt fitted for your needs and requirements. Safety and comfort are are of course a foremost concern and you can feel safe and secure with the use of the lap belt ensuring you have many years of scootering ahead of you.
Cup Holder
If you are out and about on  your travels staying hydrated is very important for your health and well being.
The handy cup holder on the GO GO sport mobility scooter clips easily to the side of the scooter and means you can safely cruise around with a water, tea, coffee or any beverage you fancy within arms reach.
A scooter cup holder is a great accessory to have when travelling.
Oxygen holder
The GO GO Sport can be fitted with this convenient oxygen tank holder. There is no need to worry about not being able to go out and about if you rely on needing oxygen with this easy to attach and remove holder.
Having the ability to take your oxygen with you on the go keeps you happy, healthy and mobile.
Without hesitation, I can say that the quality of the service I recently received from Ben Upson was nothing short of outstanding.  Furthermore, I will definitely recommend him and Easy Mobility Services to others seeking to buy a wheelchair or other mobility aid.
Dr D Grange
We were very pleased with our purchase of a riser recliner and would certainly recommend the company to our friends.
Mr & Mrs Dennis
I wish to place on record my sincere gratitude and admiration for the way that, as in all my previous contact with Easy Mobility over several years, your customer service goes well beyond what might be expected from a busy organisation.
Tony Millett
I would just like to testify to the excellent service provided by Easy mobility in Braintree. I spoke with Ms Claire Tracy within a week Claire had the scooter that I asked for delivered to me at my address in Somerset. Claire is a very kind and helpful lady and credit to Easy mobility.
Bernard Dray
I just want to say, big thank you to Paul. I am so pleased with my new Illusion scooter & such great service from you and your company. I have used the scooter three times now, what a big difference compared to my old one.
Great service and no pushy sales speak, just a very good understanding of your product and my mobility needs, thank you again.
Alvinnia Lantree
Easy Mobility Services were diligent, tidy, and exceptional when sorting out our problem.
Mrs. Dean
Go Go Sport Specifications
| | |
| --- | --- |
| Weight Capacity | 23 st 3 lbs (147 kg) |
| Max Speed | 4 mph (6.4 km/h) |
| Ground Clearance | 38mm (1.5") |
| Turning radius | 1283mm (50.5") |
| Overall Length | 1092 mm (43") |
| Overall width | 540 mm (21.25") |
| Total weight without batteries | 44 kg |
| Heaviest piece when disassembled | 20kg |
| Standard seating | Foldable compact, vinyl-covered molded plastic |
| Battery Requirements | Two 12-volt Size: 2x 20 AH |
| Battery Weight | 12.5 kg |