The Globe Trotter is an advanced lightweight automatic electric folding scooter. Designed with the busy traveller in mind it can be easily folded down for a compact storage and portability. In just 10 seconds the Globe Trotter can be folded and unfolded by the wireless remote-control key fob, making storage and transport easier than ever.
The impressive high ground clearance and four-wheel build provide you with a stable and safe driving capability so you can take the Globe Trotter wherever you need to go. Weighing in at a staggering 26kg means the Globe Troller is one of the lightest mobility scooters on today's market - ideal for nipping about!
Considering how lightweight the Globe Trotter is, on one charge it can travel up to a sensational 10 miles before needing to recharge. Charging the Globe Trotter is stress-free and can be done whether it's folded or unfolded. In addition, the easy-access tiller charger can be used meaning you can keep cruising all day long.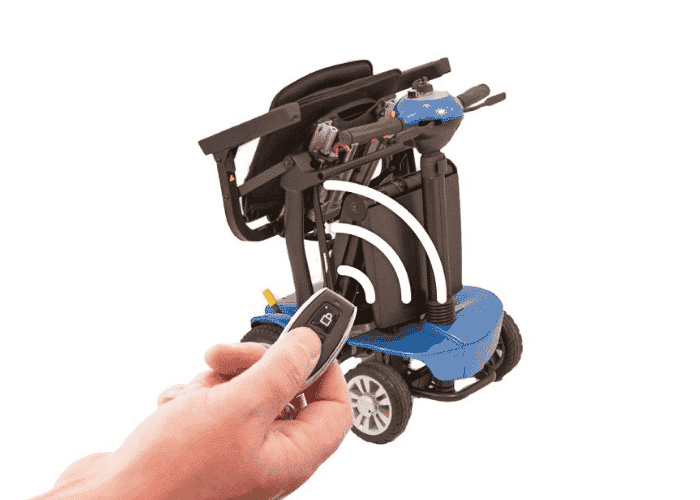 The Globe Trotter has been designed to adapt to all users, the adjustible tiller hight can be simply changed to adjust the drive control position and allow more legroom on the scooter. Once folded away the Globe Trotter is still able to be steered and controlled so you don't have to worry lifting it as it's still highly manoeuvrable.
Optional Extras include the Globe Trotter Carry Bag - perfect for taking your folding scooter travelling.
Enjoy your Scooter, Enjoy Your Freedom!
Globe Trotter  Mobility Scooter Dimensions
| | |
| --- | --- |
| Specification |  Globe Trotter |
|  Speed (max) |  4 mph |
|  Travel Range (Max)* – Standard |  10 mi. (16 km) |
|  Battery (Max) |  1 x 24V 10Ah Lithium |
|  User Weight |  18 st. (115 kg) |
|  Total Weight (W/O Batteries) |  26 kg |
|  Total Weight (With Batteries) |  28 kg |
|  Overall Length |  1000 mm (39.5 in.) |
|  Overall Width |  540 mm (21 in.) |
|  Overall Height |  890 mm (35 in.) |
|  Folded Length |  460 mm (18 in.) |
|  Folded Width |  540 mm (21 in.) |
|  Folded Height |  660 mm (26 in.) |
| | |
| --- | --- |
| Specification |  Globe Trotter |
|  Climbing Gradient (Max) |  12° |
|  Turning Radius (Min) |  1570 mm (62 in.) |
|  Ground Clearance (Mid Frame) |  90 mm (3.5 in.) |
|  Seat |  Padded with Arms |
|  Seat Width |  460 mm (18 in.) |
|  Seat Height |  410 mm (16 in.) |
|  Front Tyre |  163 mm (6.5 in.) Puncture Proof |
|  Rear Tyre |  190 mm (7.5 in.) Puncture Proof |
|  Suspension |  No |
|  Lights |  No |
|  Charger |  2 Amp Lithium |
|  Charger Type |  Tiller/Battery Pack |
*Subject to user weight and terrain