Mobility aids for day to day living can have a major impact on the quality of life for many disabled or elderly people. More often than not, it is the little things that make all the difference.
Popular  mobility aids
The Over bed Table – This mobility aid is a very popular item for being comfortable in bed.It is available with wheels, or without, and also comes with an adjustable table top with rails to stop things sliding off. You can easily read your book, or magazine or, enjoy crosswords.
Long Handled Shoehorn – This is a very simple but effective product. It is an extension of a normal shoehorn, so perfect for saving you the trouble of bending awkwardly whilst trying to put on your shoes.
Leg Raisers – The purpose of this mobility aid is to raise beds and chairs, or other furniture items which are too low. This is a great product for making use of your existing furniture without the need to replace it. Leg raisers are also known, as elephant feet.
Grab Rails – These come in many lengths, and can be purchased both in metal, or plastic varieties.Grab rails can either be permanently fixed to the wall, or temporarily put in place using suction cups to make them portable.Grab rails are suitable for both indoor, and outdoor use, and can give the user reassurance when getting out of a chair, bed or bath.
Folding Walking Stick –This mobility aid is absolutely perfect for travelling. The folding walking stick easily folds away into a bag when not in use, so when your done walking you can stow your stick away and forget about it. The folding walking stick when erected is very sturdy, so just because this stick can be folded away,doesn't mean its not both robust and reliable.
Ferrules – These little items are designed for the soles of your walking stick. They help your walking stick grip to the pavement, giving the assurance your walking stick won't slip away from underneath you.Over time and use they will wear out so it is important to make sure they are replaced once the grip has worn away.
Donut Cushion – This is a ring shaped cushion with the middle out and its main use is to relieve pressure on the bottom while sitting.The donut cushion can provide a great deal of comfort for people suffering from prostatitis, chronic pelvic pain, hemorrhoids, and pain in the coccyx area, together with other problems when sitting down for extended periods of time.
Caring Mugs – A simple solution to not spilling drinks a non-spill Easy Grip mug.
Buckingham Caddy – The Buckingham Caddy is an ingeniously designed mobility aid. Its use is to attach to walkers making the transporting of drinks, meals, or just your bits and bobs from room to room, a safe and easy process.
Reachers –Reachers are a long handled grabber ideal for hooking things without having to bend over. Reachers come in various lengths to save straining your back and hips.
Raised Toilet Seats –This ingenious design means you dont have a problem with being too low. It is securely attached to your existing toilet and comes in 2" or 4" sizes.
The Walking Stick Strap – These are simply attached just beneath the handle of a walking stick and then attach around your wrist, so when you need to reach for either your purse, or wallet your stick does not crash to the ground.
Easygrip Cutlery- These are popular for many reasons where people find difficulty using regular cutlery. They are especially useful for people with arthritis.
Home Trolley – A Home trolley is a two-tier trolley on wheels just like having two trays.Easy to use from room to room and put all your favourite things on.The home trolley is a reassuringly sturdy stable walking aid with excellent grips and braking.
Long Handled Dustpan and Brush – With this specialist dustpan and brush keeping the floors in your home tidy is simple. With this product there is no need to have to bend down to sweep your floors, so keeping your home tidy will not leave you feeling you have run a marathon.
Adjustable Backrest – This is a solid, adjustable, reliable, and fully portable back rest, to help you sit up in bed and be comfortable.
Washable Dinner Bibs – Saves on washing clothing and attaches with a Velcro comfortable fitting.
Tight or sock Aid – This product helps you to put your socks or stockings on without bending down. Simple and effective.You simply slip your foot easily in and the frame does the hard work for you.
Swivel Cushion – One of our most popular products is the swivel cushion.It's simple design means no more awkward and tiring twisting is needed whilst getting in the car, or onto a dining chair.
Plate Guard – Easily attaching a plate guard to your dinner plate,means you don't have to worry about pushing food off the plate. Simple and effective.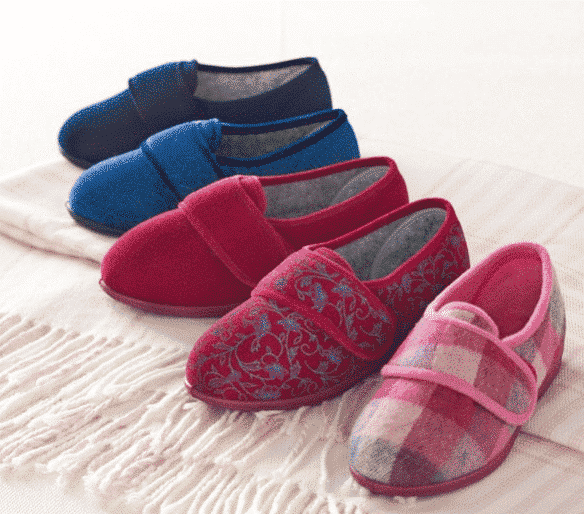 Cosyfeet slippers and shoes – We have a wide range of Cosyfeet slippers and shoes. Extra roomy and the perfect solution for tired feet!
There are many mobility aids available for almost every situation, from assisting and helping when preparing and eating meals, to mobility aids that help with washing, sitting, and generally getting around whether that is walking or on a mobility scooter or wheelchair. These mobility aids can enhance a disabled or elderly persons life, and without sounding too dramatic, the difference they can make can be life-changing.
Easy Mobility Services offer a huge range of mobility aids at very competitive prices.  Our product range is so large we could not possibly list every item here, but we can give you a good idea of some of our most popular mobility aids, ranging from a long-handled shoehorn (no more bending awkwardly), to a walking stick-strap (no more stick falling on the floor when you reach for say your purse or wallet), through to a bedside table on wheels, with an adjustable table top so your book or magazine can be just the right angle.
Please note that if you have a specific requirement and you cannot find it on our website please get in touch with us, and we will assure you of our best attention to find the right product for you. Our experienced and friendly sales team will be happy to help you with whatever questions you may have, and if we do not have the particular product you are looking for in stock we will order it in especially for you.
We hope the above list has what you are looking for. If not let us know by either completing our simple enquiry form or giving us a call and we will be happy to help with any questions you have.