When it comes to dealing with mobility problems around the home, particularly going up and down their stairs at home, people sometimes opt to stay in their homes rather than move.  So the time may have come to consider the advantages of installing a stairlift.
It can be a difficult decision to make, balancing the costs against the changes to your home, but  Easy Mobility Services pride ourselves on making the process as straightforward, cost-effective and efficient as possible.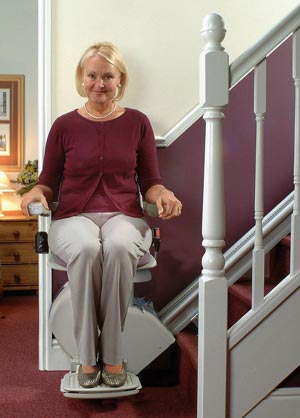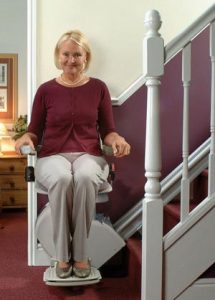 We have expanded our Braintree branch to enable us to create an assessment area; giving our customers a unique opportunity to try a working stairlift on a real staircase. We have two full size working stairlifts; one for straight stairs and one for curved. We also have a demonstration model available to see in our Chelmsford branch.
We are committed to helping you to make the best decision for your needs and to match your stairs.  As part of the consultation process we do need to visit your home as no two staircases are the same.  However we'd like to stress there is no pressure selling in your home, the visit is purely for the purposes of checking what's suitable for your home.
Stairlift Servicing
Unlike many of our competitors we have fully trained engineers to fit the stairlifts.  The same team can also service all major brands including:
Brooks
Acorn
Stannah
Minivator
Freelift
In some instances staircases may need some minor modification, something that we can deal with easily.
To make getting off the stairlift as safe as possible it finishes level at the top of the stairs with dual seat levers allowing the seat to rotate 90 degrees away from the stairs, thus giving safe exit.
Brookes Lincoln Straight Stairlift
Easy Mobility Services strive to associate ourselves with the best, and we believe the Brooks straight stairlift is currently one of the best available. The Brooks Lincoln Straight Stairlift is reliable, comfortable, and has easy controls and safety sensors.  The Brooks stairlift also has a lockable swivel seat which is amazingly slim once folded away.
Handicare Rembrandt and Van Gogh
We also recommend Handicares classic seat and single modern rail system for stairs that turn corners or are spiral.
The Handicares Rembrandt is installed so that the rail travels along the shorter side of your staircase (the internal), whereas the Van Gogh travels along the longer side.  Contrary to popular belief the stairlift rail is attached to the staircase and not the wall.
As always rest assured, we will advise you which is the best solution for you. Our mission is to make your mobility easier.  So please get in touch if you have any questions, or would like to arrange a stairlift demonstration.